Ukrainian Military Dealt A Powerful Blow To The Occupiers In Bakhmut
3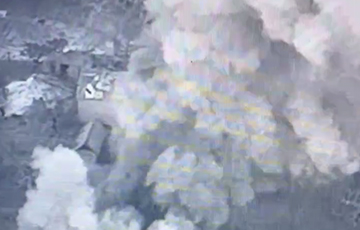 There is a video of the elimination of the Russian troop concentrations.
The troops of the Russian Federation are continuously storming the approaches to the city, trying to capture the positions of the Ukrainian military, however, the 'eyes' of the Armed Forces of Ukraine see each enemy from the sky and correct a high-precision strike on them.
Robert Brovdi, the commander of the Madyar Birds aerial reconnaissance unit, the call sign "Madyar", published the video of one more destruction of the Russians in Bakhmut.
The Russian occupiers, despite the huge losses in personnel, continue unsuccessful attempts to capture the indestructible Bakhmut. They, thinking that no one sees them, make their way into the city destroyed by Russian shells, and hide in destroyed houses in an attempt to dislodge the Ukrainian military from their positions.
However, with the help of the "eyes" of the Armed Forces of Ukraine - drones - Ukrainian aerial reconnaissance officers identified the location of the enemy, waited until they gathered, passed the data to the fighters of the 43rd Separate Artillery Brigade, who delivered several precision strikes against the occupiers. Clear coordination of actions gives excellent results - many occupiers died.