Ukrainian Tennis Player Tsurenko Says What She Expects From Belarusian Athletes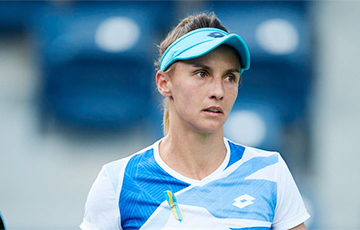 Everyone's action counts.
Ukrainian tennis player Lesia Tsurenko shared with the ChestnOK YouTube channel her opinion on why the Belarusian and Russian tennis players do not condemn the war in Ukraine, which is going on in Russia since February 24, 2022, reports Trybuna.
- If to consider Aryna Sabalenka, for example, she lives, as far as I know, in Miami, she's at the top of tennis now, she earns good money and the regime cannot affect her in any way. Why is she totally avoiding this subject of Ukraine and does not want to say anything? Can you suggest what kind of thoughts she has, what she has inside her that she is distancing herself from everything?
- I don't know what can be inside... I would really like everyone to realize what exactly is going on, how awful it is and how global it is. Everyone's action counts, makes a lot of sense. I really wish this was happening. So it's very difficult for me, personally, to understand what's going on inside the other side.
What do we expect from the Belarusian tennis players, for example, the same government that puts you [Belarusians] in jail, and they get 200 thousand a year? What to expect from them then? Who will come out with what opinion?
It is the same in Russia. What attitude? At the beginning of the war, Russian tennis players wrote to us that we were bombing ourselves. And those who receive such high fees and state funding, where will they come out? Who will say what? It turns out that they don't give a damn that people like you are in jail. That there are already 164 thousand "packages" in Russia, 164 thousand people killed during the year. Plus multiplied by 3 - another 400 thousand are alive, but without arms and legs. How do you make it?
It seems to me that it is impossible to explain. They don't have any empathy," said Tsurenko.
Earlier, as Charter97.org wrote, Lesya Tsurenko refused to come out on court against world number two, Belarusian Aryna Sabalenka in the third round match of the WTA 1000 tournament in Indian Wells (USA).