AFU Attacks Flanks Of Russian Troops In Bakhmut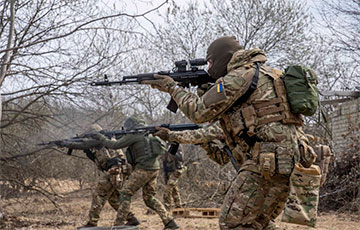 The Ukrainian army achieved tactical superiority over the enemy.
British intelligence reported that the Ukrainian military is conducting counterattacks in Bakhmut. It is these actions that prevent the Russians from encircling the city.
Military expert Oleksandr Musiyenko, the head of the Military and Strategic Research Centre, told about it 24 Channel. He stressed that we are talking about local pinpoint counterstrikes in order to achieve tactical superiority over the enemy.
On March 22, President of Ukraine Volodymyr Zelensky arrived at the position of the Ukrainian military in the Bakhmut axis.
Expert Musiyenko noted that the visits of the military command are always aimed at raising morale. In addition, the president awarded the military on behalf of the entire Ukrainian people.
Mr Musiyenko said that when there are intense hostilities, the initiative of the parties may change several times a month. That is, the fact that Russian troops could previously capture a street or part of a block in the city does not mean that they control it. The situation can easily change, and Ukrainian troops will again occupy these positions.
"However, it is noticeable that the Armed Forces of Ukraine are trying to remove pressure on Bakhmut from the northern and southern flanks," the military expert stressed.
"This is noticeable because the enemy would have long been able to close the flanks and surround the city. But the Russians can not do this because of local counterattacks," Mr Musiyenko said.