China's Largest Logistics Company Halted Shipments To Russia After Xi Jinping's Visit
17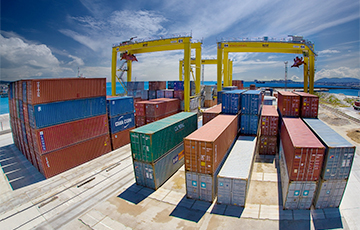 OOCL Logistics calls sanctions the reason for the refusal.
China's largest logistics company refused to ship goods to Russia as soon as Chinese President Xi Jinping left Moscow, according to The Moscow Times.
OOCL Logistics, which operates a fleet of 70 container carrier ships, including two icebreakers, has stopped shipping even paid dresses, skirts, trousers, shoes and other clothes to Vladivostok from its warehouses in Shanghai and Shenzhen.
The Baza reports, citing a source working with procurement in one of the Russian importers, the company calls sanctions the reason for the refusal.
The representatives of OOCL Logistics explained that they would not accept goods from the suppliers of the Russian company, nor were they going to load them into containers and transfer them to third-party carriers.
OOCL Logistics is owned by Orient Overseas Container Line, one of the world's largest container logistics companies with headquarters located in Hong Kong.
Dmitry Peskov, the spokesman of the Kremlin, said that Western countries had increased the pressure on states that have not joined the sanctions against Russia.
"It is not news that the countries of the collective West, led by the United States, are putting uncovered and brutal pressure on a number of states that do not join the illegal restrictions that have been imposed on our country. These states tell us about it directly. Unfortunately, they have to face such an onslaught," Mr Peskov told journalists.
Two countries immediately limited supplies to Russia earlier. First, Turkey, which increased exports to Russia by 1.6 times over the past year, refused to ship sanctioned goods. The government handed over to local companies a list of products that were banned from being delivered to Russia.
Russian businesses decided to urgently redirect the flow of grey-market imports to Kazakhstan. Companies from the Russian Federation literally "filled up" Kazakh counterparties with proposals for joint work, according to Reuters.
However, the Kazakh authorities decided to significantly limit the possibility for Russian companies to bypass sanctions the day before. The government is going to launch an online system for tracking goods starting from the 1st of April. Subsequent re-exported will come under this monitoring, according to the Financial Times.