HIMARS Smash Rosgvardiya HQ In Donetsk
16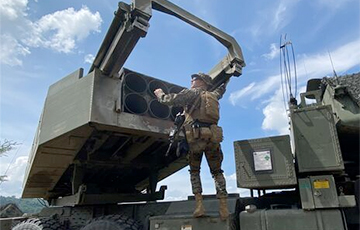 The Russians suffered huge losses.
On Monday, March 27, the Ukrainian Armed Forces shelled the headquarters of the Rosgvardiya in occupied Donetsk with HIMARS. An accurate hit eliminated 12 occupants, while another 60 were made "300".
This was reported by the Spy Dossier Telegram channel, which is run by a member of the security services. It also released relevant videos of the result of the "demilitarisation".
"Dear subscribers, according to my source, the three-storey office building in Donetsk that suffered shelling yesterday (27.03) served as the headquarters of the federal service of the Russian National Guard troops," the message read.
The special serviceman also noted that 12 Russian guardsmen were killed immediately and more than 60 others were wounded. There were many in serious and extremely serious condition among the "three hundred", which means they are contenders for becoming "two hundred".
"The shelling was carried out using HIMARS MLRS," the author of the Telegram channel stressed.
The video shows the results of a precise hit on a three-storey Rosgvardiya headquarters building. As can be seen from the footage, a large part of the building was destroyed. A fire broke out at the site of the "arrival", the fire burnt out enemy vehicles and military equipment located near the headquarters.
By the way, Russian media also showed the results of the strike.