Explosion In Rostov FSB Building: Recent Details Revealed
6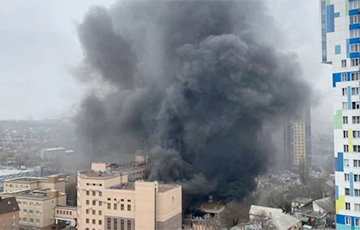 The leadership of the department arranged a real "feedback".
The explosion in the building of the border control of the Russian FSB, which happened on March 16, could be the result of the actions of Russian "handymen" who tried to inspect the drone, according to the Baza Telegram channel.
Then a huge fire broke out in the FSB Border Control building. It caused a partial collapse of the department's building. The leadership of the Russian FSB had arranged a real "feedback" on this occasion with their subordinates from Rostov-on-Don.
Earlier, malfunction with the electrical wiring, which led to the explosion of fuels and lubricants was considered the main version of the explosion in the building of the special services of the Russian Federation, however, according to the Telegram channel, another version of events is being actively checked on the sidelines of the special services.
In particular, a "Ukrainian" drone could explode in the building. The FSB found it in the Rostov region shortly before the explosion. It is reported that three intelligence officers probably decided to "dig deeper" into the equipment with their own hands in order to detect intelligence data (video tape recording systems were adjusted to the drones). Still, having failed to cope with the UAV, they almost demolished the building during its inspection.
The media specifies that first there was a major explosion, and then the fire spread to the warehouse. All the "Ukrainian" drone inspectors died as a result of the incident.