Rosgvardia Colonel Arrested In Russia Over Crimean Bridge Attack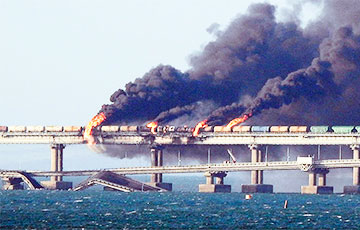 He was in charge of the strategic facility's protection equipment purchase.
Russian court arrested Rosgvardia Colonel Sergey Volkov, who purchased ineffective complexes to protect "from drones" the Kerch bridge in occupied Crimea. This was reported by Kommersant.
The Russian edition writes that the head of the technical development and resource provision department of the Marine Department of the Rosgvardia was taken into custody on March 29. He is accused of abuse of office.
The investigation says that in 2020, the officer organized the purchase of almost 400 million rubles of two radar complexes Eagle-BUAVs, which by their characteristics "simply could not withstand enemy drones."
Kommersant reports that the defense has its own version: they claim that the criminal case against the Colonel "is connected with an attempt to shift responsibility on his part from his superiors".
On October 8, 2022, a fire broke out on the Crimean bridge connecting Russia and its occupied peninsula. Russians are transferring reinforcements for their troops across the bridge. The occupants first claimed that a "fuel tanker" was on fire; Russia later claimed that a truck had allegedly "exploded" on the Crimean bridge. There was also discussion of a "drone attack". Russia called the explosion a "terrorist attack," and the organizers were "Ukrainian special services".
Mikhail Podolyak, adviser to the head of the Ukrainian presidential office, suggested that the explosion on the bridge could have been part of a struggle between Russian security forces. NV sources said that the explosion on the Crimean bridge was a special operation of the SSU. The special service refused to comment on this information: "We do not comment on this. We will comment on the role of the SSU or any other Ukrainian state body in the "bavovna" after our final victory.