'KGB Officers Could Bugged Belavia Aircraft'
18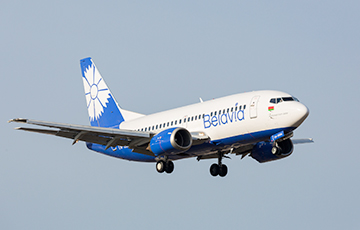 A former employee of the airline company speaks about political layoffs and bypassing sanctions.
How did political layoffs affect Belavia? Is it safe to use the services of the airline company? Who is providing maintenance for Lukashenka's aircraft?
A former Belavia employee gave an interview to the Charter97.org website on condition of anonymity.
'KGB officers could bug Belavia aircraft'
Our source said that many Belavia employees supported the protests in 2020:
– They went to protest actions - under their own flags, in separate groups. The late CEO Anatol Husarau posted a letter saying that employees can express their position, but in civil outfits and not the company's uniform.
The first arrest probably took place at the end of 2021 or the beginning of 2022. One girl was arrested for 15 days, then she left for Turkey.
As you know, we now have a KGB officer working in every department and unit. There is such a Deputy CEO for Security and Personnel at Belavia, who, before the so-called vote on "amendments" to the Constitution, began to call people, and ask questions: "Where were you on such and such a date." The guys, of course, said they did not remember. Then he opened the folder and showed photos and posts from Facebook pages. At that time, everything was limited to threats.
Our technicians told me that they saw with their own eyes that some people came with the head of their shift, perhaps KGB officers or some from security services in civilian clothes, and they entered a plane, closed the doors, curtained the illuminators, and then did something there. The technicians told me that they could have been bugging it.
According to our source, Belavia was firing even pilots:
– I know four Belavia pilots, two or three of them are captains. One was fired at the age of 21. There was a high-profile story with Siarhei Malinouski: security services beat him on August 10, 2020. Siarhei showed me a photo where his entire body is literally blue because of beatings. When Mr Husarau died and the new head of Belavia Charhinets came, the pilot was given a condition: "Either you withdraw your complaint for beating from the Prosecutor's Office, or we fire you." He refused because he was severely beaten then.
There are some cases in aviation when it's easy to become guilty of something. As I understood from the conversation, some unpleasant incident happened and they shifted all the blame on him. He was again given a condition: "Either we fire you, or you quit on your own."
Later they fired another captain. He also took part in the protests, his wife took a proactive role. The GUBOPiK [the Main Directorate for Combating Organized Crime and Corruption of Belarus] came to their house, he was protecting his wife, and then Belavia received some papers and fired him.
Last autumn, a pilot with a Ukrainian passport who had been living in Belarus for 15 years or more was also fired. They fired him for political reasons.
The purges, according to a former employee of Belavia, also affected other employees of the airline company:
– At the end of autumn, two people were fired from the flight attendant service: they came to their houses, took them to Akrestsina for 15 days, and then the company fired them.
Then they called me. The boss said that there were no questions linked to my work performance, but they would not renew my contract, since I was involved in the 2020 protests, I had taken part in three protests. They said that I could go to this KGB officer, "fall on my knees and ask for forgiveness". But I said I had nothing to apologize for.
Then this KGB officer began to call our team leaders. "I will clean out all the unwelcome," he said. The arrests continued even after I quit.
"The representatives of Belavia in Istanbul were accompanying groups of migrants to aircraft and putting them on board"
According to the source of the Charter97.org website, Belavia was involved in the migrant crisis, which was organized by Lukashenka on the borders of the European Union in 2021:
– I flew to Turkey several times. In the case of Belavia, there were a lot of migrants. I even had a conversation with one of them, as far as our level of English proficiency allowed. "We are flying to you, and then we want to get to Germany through Poland," he openly said. There were 60 migrants out of 80 passengers on one of my flights. My colleagues told me that Belavia had daily flights to Istanbul during the border crisis, and almost full planes of illegal immigrants were heading to Minsk.
The representative of Belavia in Istanbul led the migrants to the plane in groups and put them on board. I think he helped them to buy tickets, as the Syrians and Iraqis speak little English. Belavia was involved. Of course, representatives of the company said: "What can we do, they are buying tickets."
There were still flights to Lebanon at that time, and several flights full of migrants came from there. There were many migrants at the airport then: our flights arrived, there were Iraqi ones, and at that time some Syrian airline was making flights.
"They were transferring 20,000 dollars to his debit card and he was paying with it"
The Belavia former employee said that the airline company is still managing to bypass the imposed sanctions:
– When sanctions were imposed, we, sane people, were happy about this. However, the spare parts were still arriving as usual. Not in so many, not so quickly, but they got through some third country. Perhaps through Russia, perhaps through Turkey. I don't know.
The technicians expressed concern that the spare parts were taking a long time, the spare chassis had run out. If earlier there was a stock of wheels, spare parts, or something else, now it was not. There have already been supply disruptions.
One of the cases: Belavia has one of the new Boeing 737 MAX aircraft. On this side, either engine compressor or generator broke down. Since it was a new plane, the whole block had to be changed. The item was replaced within two weeks. I have a question. How is it possible not to track in the West the fact that the company is purchasing a part for a new aircraft? After some time, the part arrived, the plane was repaired and can fly.
Belavia, like other companies, were purchasing electronic software for the aircraft, which allows them to make flights and land safely at a particular airport. It was before the sanctions that were imposed after the plane with blogger Raman Pratasevich was landed. There are two systems: the NATAN and the JEPPESEN. I do not know how often, every month or every year, but it is necessary to update the systems. The JEPPESEN system is American, the NATAN is also foreign. I do not know how they are updated, but it affects flight safety.
Perhaps this is just my opinion but there are some pirate copies, some schemes to find the copies online. When I was still making flights, the pilots said that we had problems because of the old maps. This software should show restricted flight zones, which airport is being repaired - it is the regularly updated data. The JEPPESEN system, if I'm not mistaken, studies maps and tells pilots how to land correctly. I was told that they have not updated the software for about a year or they have bought some pirate copies, since they are officially banned.
One more case. I believe it was 2022 in summer, when a ban on electronic payments was imposed. In Georgia, the pilot said that we supposedly could not pay the airport with bank transfers. What did the airline do? They were transferring money to the captain's debit card, 20,000 dollars. For example, we were landing and refueling the plane, the captain was going somewhere with a representative of the airport and was paying for it somehow.
"Tashkent is involved in the maintenance of Lukashenka's aircraft"
Is it safe to fly with Belavia airlines now? The former employee believes that problems may arise over time:
– As for safety, then I was friends with many pilots and they were the sanest people, there were no fools among them. At the time of the 21st year, there was a good technical composition. At that time, I understood that not a single plane would fly if there was a threat to passengers. Yes, there are insignificant vulnerabilities that allow it to fly, and after the sanctions there were only more of them: either there are no lights, or the seat is broken, some problems with oxygen masks, because they are disposable. But this does not affect the safety of the flight. It was ok for me that, let's say, everything was fine at the time of my dismissal. I don't know what is going on there now, because the layoffs affected the technical staff.
I was told that one technician was fired, a very competent guy who was trained for all types of aircraft. The company spent $5,000 on it. He got on the list for dismissal and the company said goodbye to him, although a lot of money was spent on him. They are firing the best.
I think that these purges can worsen safety. Pilots want to work and, perhaps, turn a blind eye to something, because there are not so many planes, only 12. Perhaps this will somehow affect safety over time.
How to make sanctions against Belavia be more effective? The source of Charter97.org sees several options:
– I have a question, we had seven Boeing aircraft and five Embraer aircraft in our fleet, and all of Europe knows about it. After all, you can track each flight on Flightradar, there are board numbers available. The American company imposed sanctions. So, how are they served in Azerbaijan, Armenia, Georgia? Kazakhstan, by the way, refused to serve the planes of the Belavia company, since there is part of the American capital there.
It seems to me that Boeing should impose more tough sanctions and track them down. Perhaps sanctions on spare parts. There must be pressure on the airports in Yerevan, Baku and Tbilisi, because Belavia's fleet continues to fly there, some kind of technicians provide services there.
Perhaps we need to put pressure on them to monitor these planes thoroughly, and the ways for spare parts supplies to Belarus. Some companies can order them for themselves, and then resell them to ours.
It is also necessary to impose sanctions on the leadership of Belavia, because it is clear with whom they are connected. Some German companies had been providing maintenance for Lukashenka's aircraft. They started flying to Turkey after Germany imposed sanctions. Then the Turks could not serve it either. A representative of the company in Tashkent told me in the autumn that your "flight number one" is being served there. They are taking it for service there if they need to replace some spare parts or make tests.