Five-Storey House Blows Up In Chita, Russia
17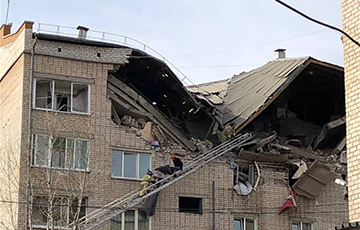 Two floors collapsed.
Today there has been an explosion in a five-storey apartment building in Chita, Russia, and part of the building collapsed. Emergency Situations Ministry officers are now working at the scene.
The Chita.ru newspaper reported on March 9 that the accident happened in a five-storey building on Borovaya Street. Eyewitnesses told the newspaper that the roof of the building came off and pieces of windows were scattered all around. Two floors of the building collapsed.
Two girls were rescued from under the rubble, according to preliminary reports.
However, the house was shut off from the gas supply almost three years ago, Mash writes. The management company stopped paying for the fuel, and Chitaoblgaz shut off the pipe. People started using dangerous tanks with propane.