Piontkovsky: Putin Asked For Mercy First Time, Remember This Day
24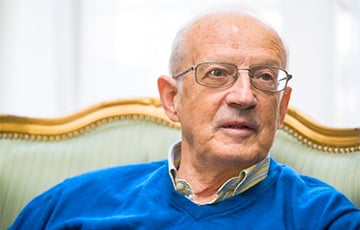 The head of the Kremlin delivered a ventriloquist message through his dummy — the dictator Lukashenka.
March 31, 2023 is a very important day in the Russian-Ukrainian war. Through Belarusian dictator Aliaksandr Lukashenka, the Kremlin begged Ukraine for a truce.
This opinion was expressed by a well-known Russian political scientist, an ardent critic of the Putin regime, Andrei Piontkovsky, on the air of a Ukrainian TV channel, dialog.ua reports.
He called Lukashenka's sensational speech "ventriloquism". He was especially surprised by the statement of the Belarusian dictator that the war should be stopped, since supposedly "soldiers on both sides do not understand what they are fighting for".
"It was Comrade Putin speaking as a ventriloquist, using him (Lukashenka — edit.) as his dummy. Remember, today, March 31, 2023 is a very important day. War criminal Pu asked for mercy for the first time. And how else to interpret this passage in his text, voiced by Lukashenka: "The soldiers do not understand what they are fighting for." Where is the "demilitarization"? Doesn't Putin understand? This is a very important turning point," said Piontkovsky.
He drew attention to the fact that, in parallel with these "pleads for mercy", the Russian dictator continues to threaten the world with nuclear war. This testifies to the desperate situation of Putin, who lost the war.
"This is how Washington perceives this revelation of his. He desperately asks for a truce. In essence, these are already the first drafts of surrender," Piontkovsky stated.
It is significant that in the course of his sensational speech, Lukashenka called on Ukraine to abandon the big spring counter-offensive and de-occupation of its territories. By this, he, obviously, broadcasted Moscow's fears about the future actions of the Armed Forces of Ukraine. The Belarusian dictator called on the parties to "stop hostilities".