Russian Ship Ivan Khurs Explodes At The Moment Of Drone Strike: New Video
14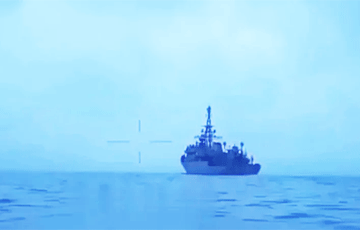 The recording of the attack near the Bosphorus was provided by the Ukrainian military.
A video has emerged showing the moment a Ukrainian naval drone hit the Russian reconnaissance ship Ivan Khurs.
The record from the moment of the defeat of the enemy warship was published by the publication UP. It was provided by sources in military circles.
The video directly recorded the impact on the ship.
Russian so-called military correspondents said that the ship of the Black Sea Fleet of the Russian Federation Ivan Khurs around 05:30 am on May 24 was attacked by unidentified "naval drones" 74 kilometers north of the Bosphorus in Cherny mine.
The Russian Defense Ministry confirmed this attack, saying that the unmanned boats were allegedly "destroyed" 140 km northeast of the Bosphorus Strait, where the ship allegedly "guarded" the Turkish Stream and Blue Stream gas pipelines (in the economic zone of Turkey).
According to Ukrainian media, the Ivan Khurs was damaged as a result of an attack by sea drones. Also, according to journalists, there are victims of the attack.
"There is significant damage to the hull and equipment. Now the Russians are hastily repairing the vessel," a source told journalists.
On May 25, the Ministry of Defense of Ukraine confirmed that the Russian warship Ivan Khurs had been attacked by a Ukrainian surface drone.