Russian Shebekino Officials In Panic And Burn Documents In Courtyard Of District Administration
15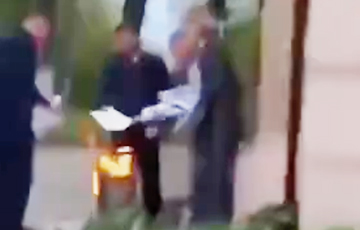 Video fact.
Officials of the Shebekino district administration in the Belgorod region burn documents.
Censor.net reports that video footage showing three men and one woman burning papers in a trash bin was published on social media.
"Employees of the Shebekino district administration are now burning documents and preparing for volunteer units," the author of the publication notes.
As Charter97.org reported, as of this morning, RVC fighters and the Russian Freedom Legion began the second phase of the military operation on the Russian territory.
Russian volunteers have broken through the Russian border and are advancing towards the settlement of Shebekino in the Belgorod region.
Grad salvos have destroyed the leadership of the Russian military in the building of the Ministry of Internal Affairs in Shebekino. In addition, an enemy truck with ammunition and a Tulpan self-propelled mortar were hit during the fighting.