Powerful Explosions Near Simferopol, Crimea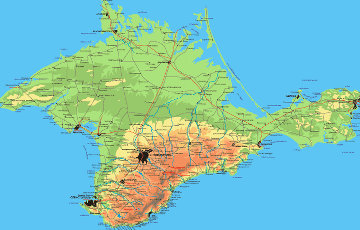 The occupation administration is panicking over "ballistic missiles".
On Saturday, June 10, powerful explosions sounded in the Crimea temporarily occupied by the Russians, information appeared about the work of air defense.
At 5.30 am "there was a very loud bang," local Telegram channels reported.
According to them, two explosions were heard near Simferopol in the village of Donske — one was powerful, and the second was not so strong.
"Air defense, there was a powerful explosion, the windows vibrated in the village of Dobre. The windows at the bus station were shaking. Simferopol district, the village of Likarstvene, an explosion was heard," the message says.
Leader of the Crimean occupation administration Sergei Aksenov "dreamed" about the liquidation of ballistic missiles, which were allegedly launched from the Ukrainian operational-tactical complex.
"In the morning, air defense forces shot down two ballistic missiles launched by the Ukrainian operational-tactical complex Grom-2. There were no victims or injured as a result of the attack. I ask everyone to remain calm and believe only trusted sources of information," the Gauleiter says.