Russian Volunteers Enter Murom, Belgorod Region, Russia On Armored Vehicles
28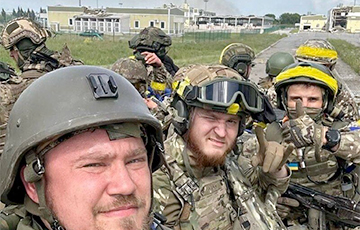 The Kremlin sent a special unit, "Akhmat", against them.
Russian volunteers from Freedom of Russia Legion and the Russian Volunteer Corps (RVC) continue their offensive in the Belgorod region.
The rebels move across rough terrain in armored vehicles, setting up ambushes in forested areas.
This is reported by the RVC fighters, who published photos and videos of their offensive.
"RVC is on the road again! The entire Belgorod region became at first a continuous front line, and more recently, a full-fledged combat zone. It's not a "special military operation", but a real war! ", The press service of the RVC reports.
The fighters of the Freedom of Russia Legion, in turn, reported that the Kremlin had thrown mercenaries of the special unit "Ahmat" against them. Volunteers published a video from the village of Murom, Belgorod Region, which they liberated.
"Putin's military continue the chaotic shelling of the Belgorod region. Trying to somehow strike at our forces, the enemy floods settlements with fire, regardless of civilian losses.
Already today there were artillery strikes on the settlements of Shebekino, Novaya Tavolzhanka, Murom and others ...
To conduct information operations, a special Tik-Tok unit "Akhmat" was deployed to the combat area. These are special forces that are used by Putin's generals exclusively to create staged videos. Masquerading as the soldiers of Ichkeria, these actors know exactly how to imitate the conduct of hostilities and the capture of settlements, while remaining deep in the rear. Therefore, in the near future we expect staged videos in this style from the regime's troops," the fighters of the Freedom of Russia Legion report.
As the website Charter97.org reported earlier, the fighters of the RVC and the Freedom of Russia Legion began the second phase of the military operation on the territory of the Russian Federation.
Russian volunteers have broken through the border of the Russian Federation and are moving towards the town of Shebekino, Belgorod Region.
Volleys from "Grads" destroyed the leadership of the Russian military in the building of the Ministry of Internal Affairs in Shebekino. In addition, during the fighting, an enemy truck with ammunition and a "Tulpan" self-propelled mortar were shot down. Also, Russian volunteers destroyed a cluster of enemy equipment in the village of Novaya Tavolzhanka, near the town of Shebekino.
Later, information appeared that Russian volunteers entered the suburbs of Shebekino.