AFU Launched Attack And Advanced Near Svatove
1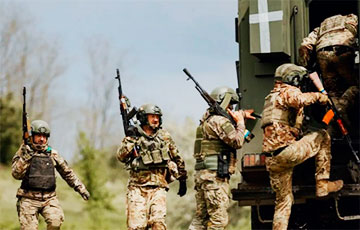 Ukrainian troops counterattacked "on the heels" of the fleeing Russians.
Thanks to the counterattack, the Ukrainian Defense Forces were able to advance 400 meters in the Svatove direction in the Lugansk region.
The commander of the Ground Forces of the Armed Forces of Ukraine, Colonel-General Oleksandr Syrsky made the statement. He visited the dislocations of the Ukrainian troops that were holding the line on the most hot sectors of the frontline.
In particular, the enemy, having reinforced their groupings with Shtorm Z assault squads, consisting of prisoners trained for assault operations in special camps, switched to conducting offensive operations in the areas of Maksiutivka, Novoselovske, Kuzemivka, Makiivka, Belogorivka, and Spirne, trying to break through the defenses of Ukrainian troops and develop an offensive. Fighting in these areas continues almost around the clock.
"Direct operations in these combat areas are aimed at promptly resolving problematic issues on the spot. This makes it possible to control the real situation on the ground, and not according to reports. In the course of live communication with the commanders of the detachments, we have developed and are implementing new approaches and a vision of achieving success as soon as possible in certain sectors of the front," Syrsky said.
According to him, each such action requires careful planning, diligent training of military personnel to have a real ability for the implementation, that is, coordinated actions of headquarters and detachments for the success of combat missions.
"In this case, even inferiority in numbers does not help the enemy. As an example, I want to note the work of the 92nd Separate Mechanized Brigade, which not only repelled the enemy's attack near Svatove, but also successfully counterattacked and advanced 400 meters 'on the heels' of the enemy. Another example is the successful military operations of the 80th Separate Air Assault Brigade. Their daily skilful tactical actions made it possible to liberate a significant area of the territory of the Ivanivsky Forest," the Colonel-General said.