Russian Troops Retreated To 15rm Distance From Dnipro River
1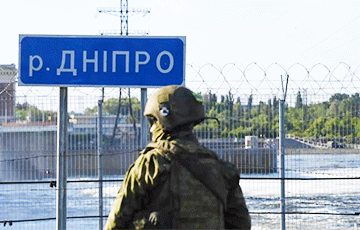 The positions of the occupiers were flooded after the explosion of the Kakhovka Hydroelectric Power Plant.
Russian troops withdrew from the Dnipro River for 5-15 km after the explosion of the Kakhovskaya HPP on the night of June 6. But they continued shelling Kherson.
RBC-Ukraine reported this with reference to the statement of the head of the Joint Coordinating Press Center of the Defense Forces of the South of Ukraine Natalia Humeniuk during the telethon.
"Their retreat distance differs. Depending on the water spill. From 5 to 15 km they delayed their positions," she said.
According to her, the Russians did not stop shelling the right bank directly during the evacuation and the work of groups of police and rescuers with the local residents.
"They hit those areas of Kherson that were flooded. And again they shelled the shopping mall, perceiving it as a "hub" where they can gather for help," Humeniuk said.
Recall that the Russian military blew up the dam of the Kakhovka Hydroelectric Power Plant in the Kherson region on June 6, 2023, at about 3:00. The destruction caused widespread flooding.
Andriy Yusov, the spokesman for the Ukrainian Defence Intelligence, stated that blowing up the Kakhovka HPP was not a spontaneous decision of Russian terrorists. They have been preparing it for a long time.
Assessments show that the maximum water level will be observed within two days in the area of Nova Kakhovka and Kazatsky and settlements close to 15 km from the Kakhovska HPP.