Ukrainian General: AFU Aim To Close Enemy In Huge Strategic 'Bag'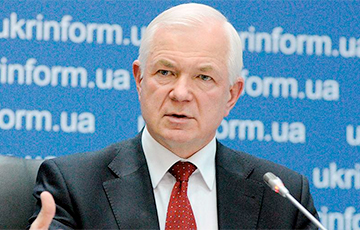 Ukraine's defence forces have moved to tactical-level counter-offensive operations.
Ukraine's counter-offensive is entering a decisive phase, as the Ukrainian Armed Forces have been attacking various enemy positions for a long time. Thanks to this, the reserves of the occupiers have been reduced. This was the main task of the preparatory phase of the offensive.
Mykola Malomuzh, an army general and former head of the Foreign Intelligence Service of Ukraine, told 24 Channel that the AFU is now turning to counter-offensive operations at the tactical level.
Preparatory phase of tactical operations is being completed
Ukrainian servicemen continue to destroy enemy resources in those sectors where it is advantageous for them to deliver powerful strikes from the latest weaponry, which can eliminate a colossal number of enemy forces.
- Cluster munitions or HIMARS strikes, long-range artillery strikes at 40 to 60 kilometres, literally destroy all the enemy's resources, as well as their fortified positions in the east and south," the army general noted.
According to Malomuzh, the preparatory phase of tactical actions is over and the phase of strategic offensive operations is beginning. However, this is still theoretical, because this is war and the enemy is also developing various options.
Meanwhile, the Russians are running out of reserves, so they are withdrawing airborne units and fire systems of various types from the Kupyansk direction and sending them to the Zaporizhzhia direction in the Tokmak area. After all, the enemy knows that here the Ukrainian forces will break through his defences, cut communications and move towards the Sea of Azov.
The liberation of Tokmak is crucial
Meanwhile, the occupiers, realising the inevitability of the Ukrainian counter-offensive, are strengthening the fortifications of Tokmak and considering options for retreat.
After all, the enemy knows that this town is its logistical artery - 75% of supplies - manpower, equipment, ammunition - from the eastern region to the front pass through Tokmak. And only 25% - via the Kerch bridge.
- Today, the liberation of Tokmak is crucial, because then the defence forces will completely cut off all enemy communications. And if they go on to liberate Berdyansk and Melitopol, they will reach the Sea of Azov. And then there will be a semi-envelopment of a large sectoral group of Russians in the Kherson and Zaporizhzhia regions. And if we attack from the side of Kherson, then there will be a complete encirclement of them, said the former head of the Foreign Intelligence Service of Ukraine.
Such actions of the AFU will allow to close the enemy in a huge strategic "bag" without communication from the East and from Crimea.
"This is already a strategic operation, which will make it possible to liberate the temporarily occupied south and, in the long term, the east of Ukraine as well," Mykola Malomuzh said.