AFU Seize Stronghold Near Bakhmut, Giving Opportunity To Surround Russian Troops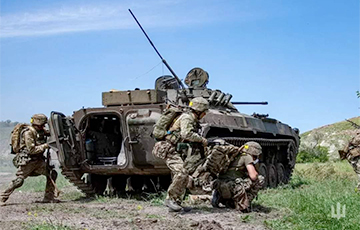 The deputy commander of the 3rd assault brigade has revealed the details.
The consolidation of the advanced units of the Ukrainian army on the Andriivka-Kleshchiivka line is the starting point from which we can more realistically talk about the further encirclement of Bakhmut and the Russian army units there.
The capture of this line will provide fire control over part of the city of Bakhmut itself: this is a support line, which is crucial for the AFU's further plans to encircle the Russian troops.
Maxim Zhorin, deputy commander of the 3rd separate assault brigade, wrote about this on his Telegram channel.
He adds that official reports about the liberation of these settlements do not mean that the fighting has stopped there. There is now a battle for full control over them.
"I think that in the near future the enemy will be more concerned not with the return of these settlements, but with stopping us, restoring their own forces and establishing their own line of defence. The enemy will definitely defeat us as much as possible with artillery, drones and phasers to delay our advance," Zhorin stressed.
Meanwhile, it's too early to talk about serious attempts at a counter-offensive by the Russian Armed Forces until the Russians replace the units with combat-ready ones and improve the morale and psychological condition of the personnel. "The 72nd Motorised Rifle Brigade of the Russian Federation is completely defeated and we are unlikely to see it on the front in the near future as the command is almost destroyed. The 31st and 83rd Airborne Assault are badly damaged. Any serviceable force like Española has simply run away. But it's all temporary. As soon as they get their act together, they will try to advance again," he stressed.