Oleksiy Hetman About Liberation Of Bakhmut: They Will Start Howling In The Swamps Soon
4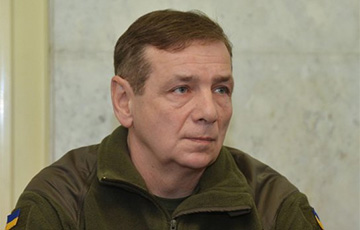 The Ukrainian officer revealed how the 72nd Motorized Rifle Brigade of the Russian Federation was liquidated.
Within a few days, the Armed Forces of Ukraine liberated Andriivka and Klishchiivka near Bakhmut from the Russian occupiers. What does the liberation of these settlements mean in tactical terms?
The Charter97.org website spoke about this with reserve major of the National Guard of Ukraine, veteran of the Russian-Ukrainian war Oleksiy Hetman.
— The fighting for Klishchiivka had been going on for quite a long time, several months. This is a village located approximately three kilometers south of Bakhmut. There are commanding heights from which it is easier for Ukraine to conduct military operations, and more difficult for the enemy.
Klishchiivka is the southern flag of Bakhmut and we, continuing to move east along Bakhmut, will eventually transform the encirclement of this city from tactical to actual.
As for Andriivka, this is a village that is located approximately three kilometers south of Klishchiivka. It was considered by the Russians as a logistics center; there is a railway line there. With its help, they tried to deliver something, including to Klishchiivka.
The liberation of these settlements, according to commander of the Ground Forces of the Ukrainian Armed Forces, Colonel General Oleksandr Syrsky, can be considered as a springboard for further movement to the East. This is another step towards the release of Bakhmut.
— How might the situation near Bakhmut develop in the near future?
— It is very important for us to liberate Bakhmut. In fact, it does not carry any strong military significance, but it does have a serious political and psychological meaning.
Bakhmut was presented by Russians in the media almost as a "victory" in the entire war. Now it will be very difficult for them to explain why they had to leave it. The lies about "leveling the front line" or "gesture of goodwill" will somehow not appeal to even the stupidest Russians.
Therefore, they are holding about 50 thousand military personnel there and will fight to prevent us from liberating the place. This is Bakhmut's very military mission. It had already absorbed a large number of Russian forces that they could not use in other places. The Russian Federation suffered huge losses in Bakhmut. We are talking about about 50,000 dead.
In general, Bakhmut is our next settlement that needs to be liberated and we need to move further to our borders in order to drive the enemy out of absolutely all of our territory. Now we are conducting offensive combat operations in the South and defensive operations in the North. When we liberate Bakhmut, then, as they say, a howl in the swamps will begin.
— Ukrainian fighters completely destroyed the units of the 72nd Motorized Rifle Brigade, the 31st Guards Airborne Brigade and the 83rd Guards Airborne Brigade during the liberation of Andriivka and Klishchiivka. Why do the Russians have such big losses?
— You need to win with skills, not numbers. The Russians tried to achieve some advantage precisely through quantity, not quality. To be honest, they are learning, but still their combat regulations and combat tactics are not modern and differ for the worse from Ukrainian tactics.
As for the destroyed 72nd motorized rifle brigade, three battalion commanders and the head of reconnaissance were liquidated there. Many have seen the video when Ukrainian servicemen, using the Russian language, suggested to the brigade to lay down their arms or they would be destroyed. They were given 10 minutes to do this. This is a normal period of time to have a smoke break and think about what to do next. Some of the Russians surrendered, those who did not want to do this were destroyed, but here the Russians themselves helped us.
When they saw what was happening to their 72nd brigade, they opened either barrage fire or fire of despair at their own brigade and positions. Perhaps they thought that we were already there and wanted to destroy our units in this way, but it turned out exactly the opposite.
This one episode fully demonstrates what the Russian army is, their attitude towards their own people. They not only do not spare their people, they also kill them.