'What Dreamboat!': Crimean Residents Rejoicing Over Strike On Russian 'Saki' Military Airbase
4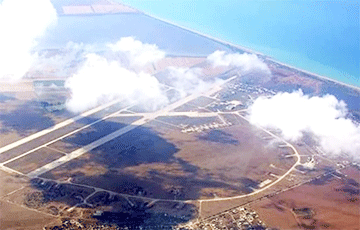 The reaction of the Crimeans was shown on video.
The first videos with the reaction of residents of the Crimea temporarily controlled by the Russian Federation to the missile strike on the Saki military airfield have appeared on social networks.
According to the Security Service of Ukraine, the attack destroyed or damaged about 12 aircraft (Su-24 and Su-30) and the Pantsir-S1 anti-aircraft missile and cannon system there.
In addition, pro-Kremlin Telegram channels report the elimination of about 30 occupiers.
There is also information that there was a training base for kamikaze drone operators on the territory of the airfield.
At the same time, judging by the reactions of eyewitnesses, the losses of the Russian army as a result of the strikes on its facilities on the territory of the peninsula are of little concern to local residents, and some residents are even delighted, nv.ua has reported.
Russian occupiers are very nervous in Ukrainian Crimea

Local media report that #Crimea has suffered the most massive drone attack of all time.

Residents of Yevpatoriya, Dzhankoi, Balaklava, Sevastopol, Saky, Novofedorivka and other cities report the sounds of work of air… pic.twitter.com/lEUIYxkQmi

— NEXTA (@nexta_tv) September 20, 2023