Russian Military Rebelled Near Klishchiivka, Recording 'Preagonic' Video
23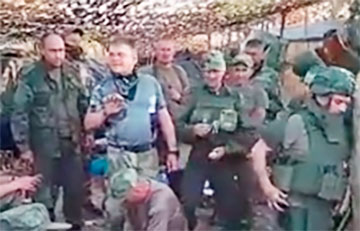 Relatives published it after the defeat of the invaders.
15 occupiers from the 1307th regiment of the Russian Armed Forces accused the command of turning them into suicide bombers. The group was sent to capture the village of Klishchiivka in the Bakhmut direction, reports dialog.ua.
The video was recorded on September 19. In it, the occupiers threaten that if they are destroyed during the assault on Klishchiivka, their relatives will post the video on the Internet. This is probably what happened.
"Today, when we arrived here at the "zero" (front line — edit.), we were given the task of reconnaissance in force first, then to take the forest belt and move completely into the residential area in Klishchiivka. Just so you understand, there are two Leopards operating in Klishchiivka from the side of the lake! The zone is completely under fire, the forest belt is covered with cassettes... There are up to 100 people standing there, we are being deployed — 10 people for all this artillery, 5 for cover... There are no magazines, the machine guns are rotten... We were promised artillery support, we were promised evacuation, we were told that everything would be alright. But if suddenly our team doesn't return, something bad happens to our team, this video will immediately go to the Internet!" said the occupiers.
They claim that in the battles for Klishchiivka, the Russian army has already lost about 1.2 thousand soldiers, who were killed.
It is significant that in their appeal the occupiers assured that they would not retreat and would try to fulfill the task of re-occupying Klishchiivka, although, according to them, the Russian army "had nothing to do" there.
The Russian military could not clearly formulate why they were going to die, noting only that they were doing it "for Russia" and their relatives.