Vytautas Landsbergis: "You cannot talk with dictator. Dictator cannot be partner"
7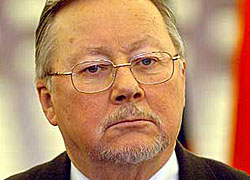 A former Lithuanian president Vytautas Landsbergis, a deputy of the European parliament, answering to the decision of The Council of the European Union to lift sanctions against Alyaksandr Lukashenka stated that "concluding a pact with a dictator, Europeans have to go against their own convictions".
"I know from my own experience that you shouldn't talk to a dictator. You cannot treat him as a partner. I would like warn politicians of the EU not to give in to Lukashenka's game. He just wants to keep the same distance from the EU and Russia. The most dangerous thing is that by making a pact with the dictator, we should our own convictions. And the fundamental nature of Europe is based on these convictions," Vytautas Landsbergis said in an interview to Polish newspaper Dziennik.
As the Charter'97 press-centre has informed, on October 13 The Council of the European Union made a decision to suspend visa sanctions against Alyaksandr Lukashenka and his officials. The chair of the Central election commission Lidziya Yarmoshyna, who is responsible for rigging election results, as well as four high-ranking officials suspected of abductions and assassinations of the Belarusian opposition leaders remain on the black lists of persons who cannot enter the EU. European politicians hope that in response to lifting the sanctions the Belarusian regime would start a process of democratization in the country.