Iryna Khalip: "I don't believe in Belarusian kangaroo!"
37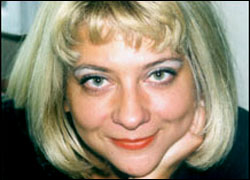 The famous journalist commented on a decision of the authorities to permit distribution of "Narodnaya Volya" and "Nasha Niva" newspapers via the subscription catalogue.
Iryna Khalip told in an interview to the Charter'97 press center:
– There is good joke of Kvartet I theatre: "Alyaksandr Lukashenka issued a decree forbidding kangaroo hunting in Belarus. At a special press conference he explained that there are no kangaroos in Belarus, but if to permit hunting, there will be no kangaroos at all." Freedom in Belarus is a kangaroo.
To hunt or not to hunt, to permit or not to permit the two newspapers to be sold in kiosks, it won't influence the freedom of speech as we do not have this freedom. So, don't applaud and speak about democratization, don't open Champagne and toast 'No, old fellow, things are changing... You must admit that real changes will come soon. Let's drink to our newspapers in kiosks! To brave postmen who will deliver them to readers even in severe frosts!' Don't hurry to drink, colleagues. Nothing has changed.
Lukashenka did probably slam fist on the table and ordered to open all those newspapers he had closed down in court cases?
Did he probably order to pay compensation to editors?
Did he probably demand that all governors secure presence of regional independent newspapers in kiosks and distributing of "Gazeta Slonimskaya" in every peasant's house by post clerks from next day?
Did he probably recognise unlawful dozens of court decisions against journalists?
Did he probably order t o investigate disappearance of Zmitser Zavadski?
Did he probably permit FM broadcasting of Euroradio, Racyja, and Svaboda?
Did he probably dismiss the government for the fact people have to buy a satellite dish to watch Belsat TV?
Did he probably demand the "house of representatives" to adopt a new law on press, allowing to open newspapers without problems?
Or did he at least gather all journalists, who lost their jobs after closing of independent newspapers, and fall down asking to forgive him, like Churikova's character in Shirly Myrli Russian comedy: 'Please, Vasenka, forgive me, a sinful fool!'?
Nothing like that happened. Lukashenka again tried to remind everyone who rules in the country: he permits and forbids at his own wish. But if he permits, it is permission only for two newspapers , names of which he pulled out of a cap, helpfully given to him by Yakubovich for a lottery game. He does it until this makes him tired. Or until he receives an invitation for a Bourbon whiskey with Obama. Or just until the nearest mood change.
He will get tired of this game in a month or two, and no newspapers will be found in kiosks except perhaps "Japanese Crosswords". If Syaredzich or someone else believes in good will of Lukashenka, it means he can believe that he may hunt kangaroo in our forests. In this case, good luck, Messieurs! But I personally don't believe in Belarusian kangaroos.