Andrei Kim's mother: "I'm proud of you, son!"
36
Natallya Radina
23.04.2008, 16:25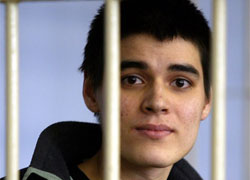 When yesterday a judgement to youth activist Andrei Kim was read out, his mother Tatsyana Kim shouted in the courtroom: "I'm proud of you, son!" Everyone heard these words. Eyes of people filled with tears. If a mother, whose son is leaving her for a colony for long 1.5 years, says such words, it means she loves and understands well her son.
Tatsyana Kim said in her interview earlier: "I am thankful to my son, for he is such a person. He helped me to turn to all good and real. When he grew up, he became interested in politics. He thinks a Christian shouldn't just pray, but must give a helping hand if a neighbour needs it."
For the latest years we have known many mothers, who come to courts, and overcoming pain and fatigue, stay near the riot militia cordon and wait for sentence to their sons and daughters... They stay near the prisons with food and warm cloths for days, weeks, years... They ask the chiefs of prisons to have a meeting with their children, write endless letters to all governmental bodies, but the silence of the regime leaves just one way out for them, and they go to protests actions with portraits of their dearest people. They become grey, old, ill, but they are proud of their children, who grew up brave, uncompromising, ready to sacrifice themselves for the sake of the native country, the truth and justice.
Can mothers of witnesses-militiamen Yury Sychou and Alyaksandr Dulup be so proud of their children? Some riot militiamen, participated in "special operations" against the opposition, don't speak with their relatives for years. It is known that wives of riot militia officers divorce their husbands because they don't like their work. Neighbours, classmates, childhood friends stop speaking with them. "My own aunt has refused to speak with me for 2 years," a riot militiaman said to me, when I was waiting for the judgements to the participants of a protest action near a militia department.
Monuments to Mothers, whose sons died in the Great Patriotic War, have recently been set up. And soon a monument to the Mothers, whose sons struggled against dictatorship, for us, will be erected in free European Belarus.
It's bitter to realise that the trial over 10 participants of protest rally of entrepreneurs was held in the building of the closed down by the authorities national Yakub Kolas lyceum, the best educational institution in the country, as many people think. The Tsentralny district court is situated here now. It is the place where the young people were punished for their love of Belarus.