Russia secretly selling arms to Sudan through Belarus
24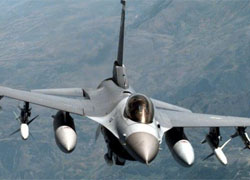 Sudan Tribune reports the Sudanese government received a party of Russian MIG-29 combat fighters in violation of UN Security Council (UNSC) resolution 1591. A source close to the Sudanese army told the combat fighters were shipped discreetly from Belarus.
UNSC resolution 1591 prohibits selling arms to Sudan government or Darfur rebels.
The source close to the Sudan army told that a dozen MIG-29 combat fighters were shipped discreetly from Belarus. However it is unknown whether the fighters were actually sold by Belarus or they simply came through the East European country.
The planes are now in the Wadi Sayedna air base, the Ukrainian website MIGnews.com reports referring to Sudan Tribune.
A military cooperation protocol on military cooperation is signed between Belarus and Sudan, under which Belarusian instructors train Sudanese military men, exchange military experiences, and scientists of the to countries work out joint military projects.
Last year Russia was accused by Amnesty International (AI) supplying arms to Sudan for use in Darfur but the Russian foreign ministry denied the charge.
In May 2008 a MIG-29 was shot down over the Sudanese city of Omdurman and its Russian pilot was killed.
At least 400,000 people were killed during the war and genocide in Darfur, 5 million people had to refuge.