Beaten by militia Aleh Surhan got 6 months in jail
59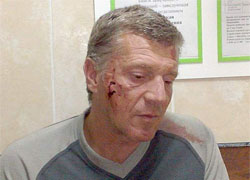 A new political prisoner appeared in Belarus. The oppositionist, who hung out a national flag, has been sentenced to six months in jail.
Judge of the court of the Kastrychnitski district of Vitsebsk Yauheny Burunou delivered the sentence. The website charter97.org learnt this from Pavel Sevyarynets, the leaders of the party Belarusian Christian Democracy.
The incident related to the case took place on September 3, 2009. As Tatsyana Sevyarynets said, Aleh Surhan and his younger brother Taras were detained at a bus stop near Vitsebsk Medical University, where a white-red-white flag was hung out. The report, drawn up in the Kastrychnitski district militia department, said Aleh was accused of hanging out a flag. But later this report disappeared. A new report says Aleh Surhan was drunk in public, used obscene language and bit a militiaman's finger during the detention.
A prosecutor asked three years in a maximum security colony for Surhan. Militiaman Syarhei Dudkevich who says the defendant attacked him and bit his finger of the left hand in a militia car, demanded to pay but 10 million rubles for moral damage. The court ordered that the oppositionist must pay 2.5 million rubles to Dudkevich.
Barrister Vyachaslau Praskalovich said evidence of the militiamen was lies, because it contradicted evidence of witnesses. The lawyer thinks the criminal case against Aleh Surhan had been opened after hanging out a national white-red-white flag in Frunze Avenue in Vitsebsk on September 3. It was decided to detain Surhan after the incident, but he demanded to attach the things he had. Surhan wanted to prevent possibly provocations. However, militiamen refused to do this and interpreted actions of the detainee as disobedience.
According to militiaman Syarhei Dudkevich, Aleh Surhan was "rubbing his cheeks against the floor" and "banging his head against the panels of the car", so afflicting bodily harm to himself.
Defendant Aleh Surhan and his brother, a Young Belarus activist Taras Surhan, who saw the moment of detention, deny evidence of Syarhei Dudkevich. Taras Surhan showed photos he made with his cell phone proving Aleh Surhan had bruises on his face and there were traces of handcuffs on his wrists.
Photo Radio Svaboda