Militia seized Polish House in Ivyanets
38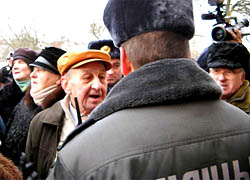 The militia forced activists of the Union of Poles, mainly elderly people, out of the building.
On February 8, militiamen and officers of court burst into the Polish House, owned by the unrecognized by the Belarusian authorities Union of Poles. The website charter97.org learnt this from journalist Andrzej Poczobut, a Union activist.
"The militia seized the Polish House. They are in the building, which is surrounded by the militia. Before the attack, activists of our organization, among them head of the Ivyanets branch of the Union Tereza Sobal, were in the building. I don't know why officers of court came, there weren't any court decisions.
Officers of court attached property of the Polish House. They guard the entrances preventing Union members from entering. The situation resembles one in Hrodna in 2005. In fact, the Belarusian state used force to take an office of an NGO. This is a scandal," Poczobut said.
According to Poczobut, at about 5 p.m., the militia forced all activists out of the building. "People were pushed out, pulled by their arms and legs. Today is a workday, so the people in the Polish House were mainly pensioners, elderly people. Militiamen got Stanislau Buracheuski, appointed head of the Ivyanets pro-governmental Union of Poles, into the building," Poczobut told charter97.org.
A car with journalist Andrzej Poczobut was stopped by militia. Driver Alyaksei Salei was detained. Militiamen said he allegedly had a fake driving licence. Andrzej Poczobut had to hitchhike to get to Ivyanets.
We remind that it wasn't the first attempt of the authorities to take the building. On January 21, the pro-governmental Union of Poles made an attempt to carry out a sitting to remove from power Tereza Sobal, the head of the Ivyanets branch of the Union of Poles in Belarus. Teraza Sobal is accused of committing a crime allegedly taken place in 2004, when the Polish House in Ivyanets received material aid from head of the Union of Poles Tadeusz Kruczkowski in 2004. Though the limitation period had expired long ago, the criminal case against Tereza Sobal was instigated.
The Union of Poles in Belarus regards these actions by the authorities as a provocation with the aim to appoint a comfortable person to head the local organization.
The Union of Poles in Belarus was split by Belarusian authorities a few years ago. The part of the organisation controlled by the authorities is officially recognized. The UPB headed by Andzelika Borys and supported by the government of Poland is repressed in Belarus.