Visa sanctions against Belarusian officials can be renewed
24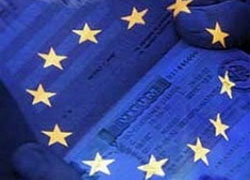 Such an appeal has been launched to the Polish government by the Committee on Liaison with Poles Abroad of the Polish Sejm.
Poland should impose visa sanctions against persons connected with liquidation of the Union of Poles in Belarus, headed by Andzelika Borys, in case Belarusian authorities do not stop persecution of the activists of the non-recognized organisation.
Beside the Committee on Liaison with Poles Abroad of the Polish Sejm, such an option is considered by the Foreign Ministry of Poland, the Polish Radio (Polskie Radio) informs.
The Committee on Liaison with Poles Abroad of the Polish Sejm called a scandal the action of Belarusian authorities in Ivyanets (Minsk region). An extraordinary session of the Committee was called in connection with the events with the Polish House in Ivyanets, and persecution of the chairperson of the local branch of the Union of Poles in Belarus Tereza Sobal (Teresa Sobol). In this situation the Committee has taken a clear attitude.
Marek Borowski, Chairman of the Committee, noted that over the last few weeks Belarusian authorities have made a number of intolerable steps against UPB activists headed by Andzelika Borys.
"The police action when several dozens of the UPB activists were detained should be condemned. Though the detained were released soon, this accident, as well as other manifestations of persecution, I believe are a scandal and an example of intensification of the policy against the Polish national minority pursued by the Belarusian authorities," Marek Borowski said.
Polish MPs addressed the Foreign Ministry of Poland with a demand to take necessary steps.
The Committee attracts attention to the fact that in case of continuation of the purposeful violation of the rights of the Polish minority in Belarus, the Polish government should consider a possibility to impose visa sanctions against persons involved in persecution of the activists.
The Commission has also expressed concern over other cruel actions of Belarusian authorities. One of the examples is fabricated accusations against members of the UPB not recognized by the authorities.
The Polish Foreign Ministry is attentively following the situation against the non-recognized UPB. Minister Radoslaw Sikorski informed that diplomats have responded to the events in Ivyanets adequately.
"I have called upon the Belarusian authorities to respect rights of the Polish ethnic minority. We brought up this issue at different levels. Our diplomatic agency stays in a contact with Belarusian authorities constantly. We have had a talk about that at the level of deputy Foreign Ministers already," Sikorski noted.
Warsaw has received reports that Minsk had started implementation of an extensive plan to stop activities of "wrong" Poles in Belarus. The fact that Hrodna tax police told to Andzelika Borys that the case of liquidated "Polonika" firm headed by her would be submitted to the court. This firm was organized in order to have an opportunity to carry out educational and cultural work officially. Liquidation of the firm, among other things, will cause closure of the Polish community school in Hrodna.