Jerzy Buzek: Reaction to arrests of Belarusian Poles has to be immediate
13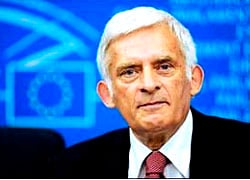 The President of the European Parliament expressed his concern over the recent mass detention of activists of the unofficial Union of Poles in Belarus.
"The reaction has to be immediate. We should take decisive and strong actions. All of us remember Poland of 1970–1980ies, when members of the national movement, thrown to prisons, got support from outside. This support is vital, so we will insist on that," Jerzy Buzek said during his visit to Warsaw.
The Embassy of Poland din Belarus has also expressed its concern over the situation. On January 22, deputy foreign minister of Poland Jan Borkowski said in Warsaw the "Belarusian authorities are clearly increasing the pressure on the Polish minority", Radio Svaboda reports.
Borkowski also said he had unofficial information that local authorities in the area that was the centre of conflict were attempting to close down Polish schools there.
The deputy foreign minister expressed a hope the problem would be solved.
We remind that mass detentions of activists of the Union of Poles in Belarus, unrecognized by the authorities, took place on January 21. 43 activists were detained on their way to Ivyanets (the Minsk region). They were going to support the head of the local union branch Tereza Sobal, who feels pressure from the authorities.