Belarusian MFA files note of protest to Polish Ambassador
32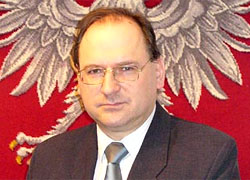 The Ministry of Foreign Affairs of Belarus has filed a note of protest to Polish Ambassador Henryk Litwin over Poland's statements regarding strengthening repressions against the Belarusian Poles.
"The head of the Polish diplomatic mission was drawn his attention to the facts regarding actions of certain officers f the Embassy of the Republic of Poland in the Republic of Belarus that do not comply with basic international legal documents regulating activity of foreign diplomats in the countries where they are accredited," the press release of the Belarusian MFA says.
The Belarusian party "confirmed the country's interest in the development of good relations with Poland based on the principles of equality and mutual respect".
We remind that pressure on the Union of Poles has tightened in Belarus. mass detentions of activists of the Union of Poles in Belarus, unrecognized by the authorities, took place on January 21. 43 activists were detained on their way to Ivyanets (the Minsk region). They were going to support the head of the local union branch Tereza Sobal, who feels pressure from the authorities.
Representatives of the Polish diplomatic mission were present at the sitting of the Ivyantest Union branch. Tereza Sobal was re-elected head of the Ivyantest branch.
On January 22, President of the European Parliament Jerzy Buzek expressed his concern over the situation around the Polish minority in Belarus during his visit to Warsaw.
"The reaction has to be immediate. We should take decisive and strong actions. All of us remember Poland of 1970–1980ies, when members of the national movement, thrown to prisons, got support from outside. This support is vital, so we will insist on that," the EP President said.
The Embassy of Poland in Minsk also expressed its concern over the situation with the Union of Poles.
At the same time, the Polish parliamentary Committee on Liaison with Poles Abroad called on the Polish government to impose sanctions on the officials involved in repressions against the Union activists.