Opposition rally in Minsk disbanded (Video)
49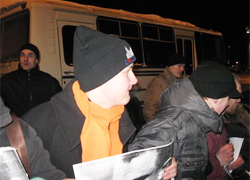 20 persons have been detained on February on October Square 8 in Minsk. Riot policemen again prevented journalists from doing their work, acting in thuggish methods.
Opposition activists were set to hold a rally of solidarity with political prisoners Mikalai Autukhovich and Uladzimir Asipenka, who are kept in the remand prison for a year already. Half an hour before the beginning of the rally riot policemen in mufti were on duty on the square and on Independence Avenue, near metro entrances and underground passages
As long as oppositionists gathered on the square and produced portraits of prisoners of conscience, dozens of riot policemen in uniform and in mufti made a rush at them. With the use of brutal force oppositionists were thrown into two police buses. Among the detained are activists of the civil campaign "European Belarus" Yauhen Afnagel, Palina Kuryanovich, Maxim Vinyarski, Andrei Krachko (BNR Youth leader), one of the leaders of the Young Front Mikola Dzemidzenka and others.
Journalists were not permitted to film the lawless actions that were taking place. Like at previous opposition rallies, several persons in mufti were sent to each of the journalists. They shielded lenses of photo and video cameras, hit them on hands and equipment and prevented them from performing their professional duty.
Riot policemen in mufti didn't show their identity documents, didn't say their names. Policemen in uniform who were on the square didn't react to the plead of journalists who tried to attract attention to attacks of the unknown.
We remind that after the cruel crackdown on solidarity rallies in September and October 2009, when representatives of mass media were prevented from doing their work in the same way, Deputy Interior Minister of Belarus Yauhen Paludzen stated that police drafted arrangements to change the form of work with journalists at mass rallies.
"In the nearest future the press and police are to work at the rallies in the following way: press-officers are to attend the rallies. They are representatives of the Interior Ministry in blue waistcoats. Journalists would be able to address them on all issues," Paludzen said. The police officer also said that experience of colleagues from Germany was used when drafting arrangements for work with journalists.
There were no press-officers at the opposition rally on February 8. Riot policemen continue to use usual methods of bandits against oppositionists and journalists.
Alyaksandr Barsukou, the head of the law and order department of the Interior Ministry of Belarus was in charge of the disband (an archive photo)
The footage, which charter97.org cameraman managed to shoot during the rally on February 8. Riot policemen almost broke our video camera for that
In order to demonstrate the "work" of Belarusian riot policemen we offer a video footage from the archive
Once more we post photographs of riot policemen who hinder the work of journalists at oppositional rallies
Photo bymedia.net
Photo BelaPAN