Accusations against Autukhovich are absurd. The main "victim" didn't appear in court
25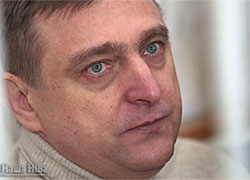 A statement of former head of the Hrodna region executive committee Uladzimir Sauchanka was read out in the Supreme Court.
The Supreme Court continues considering the loud case of the Vaukavysk entrepreneurs. Mikalai Autukhovich, Uladzimir Asipenka, Alyaksandr Laryn, and Mikhail Kazlou are in the dock. The proceeding is carried out by judge Alyaksei Tyatsykhin, prosecutor is Safarau.
The former head of the Hrodna region, considered to be a "victim" in the case, made a statement saying he is under treatment at the moment and asking not to be present at the trial, "Nasha Niva" reports.
The judge asked if participants of the trial had any objections, Mikalai Autukhovich said: "I'd like to hear him", but didn't insist.
Finally, accusations against Autukhovich became known. All counts of the case are related to 2004–2005.
The accusations are terrible but at the same time absurd. It seems to be the biggest nonsense ever heard in the Supreme Court.
The first accusation is that in September 2004 Autukhoivch and Alyaksandr Laryn illegally bought arms, a short rifle, which was used for making a sawed-off shotgun. Five cartridges were found during the search of Autukhovich's house in September last year.
The investigation says that in September 2005, Autukhovich out of revenge ordered Laryn to set on fire the house of the Vaukavysk militia department Katsuba. Later, these people set a garage of tax officer Mandzik on fire on the same motives. It was said at the trial that Autukhovich had allegedly created an organized criminal group and coordinated its activity. The group consisted of Laryn, Asipenka and others. The group had a grenade RPG-26, some trotyl blocks, and an electric exploder.
The investigation claims Autukhovich bought two electric shock devices in Moscow in the summer 2005 to capture deputy minister of taxes and levies Vasily Kamenka. In October 2005, being in the pretrial detention facility, Autukhovich allegedly continued coordinating actions of the criminal group. Being in prison, he allegedly ordered to prepare an attempt on region head Sauchanka's life.
Laryn allegedly carried explosives to Hriodna with the help of Asipenka. Investigators say he was at a distance of 140 meters from the head of the region executive committee's house, but failed to fulfil the task, as passers-by appeared in street.
Mikalai Autukhovich and Uladzimir Asipenka pleaded not guilty.
Mikalai Autukhovich, Yury Lyavonau, and Uladzimir Asipenka were arrested in Vaukavysk on February 8, 2009. Political prisoner Mikalai Autukhovich was earlier persecuted for his active struggle for the rights of entrepreneurs. As human rights activists think, he and Uladzimir Asipenka are accused of committing grave crimes without any grounds. Protesting against unlawful arrest, Autukhovich went on 90-day hunger strike in prison, which ruined his health.
Human Rights Watch, an international human rights organization, recognized the Vaukavysk entrepreneurs political prisoners in January 2010.