Paweł Kowal: Lukashenka treats European Union as simpletons
15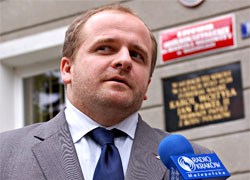 A former Vice Foreign Minister of Poland, a MEP Paweł Kowal writes in "Rzeczpospolita" about the policy of the EU towards Belarus.
If a specialized department of the European Union studies was to be created in some university, Alyaksandr Lukashenka could become its chairman successfully. He is an exceptional expert on the EU: he uses weaknesses of Brussels skillfully and knows that they place their benefits higher than human rights, and besides, he perfectly meets needs of democratically elected European leaders who want media success.
As any dictator, Lukashenka wants to retain power and secure the future of his family. At a certain moment he realized that it would be hard with Russia, as Moscow which had been sponsoring the Belarusian economy for many years, does not even think of giving him long-term power guarantees. Moreover, Vladimir Putin remembers that Lukashenka had an intention to become the head of the "union" of Belarus and Russia. So the Belarusian leader has found another simpleton: the European Union which agreed to think that Lukashenka's aim is to defend Belarus from Moscow.
Careless policy
As the Belarusian dictator wants to stay behind the steer, support of Brussels is important for him. He needs economic support and constant legitimization of his regime by the EU politicians at public meetings, which are broadcast by the Belarusian state TV as a confirmation that Lukashenka is supported by such persons as Silvio Berlusconi, Dalia Grybauskaitė or Radosław Sikorski.
In such a situation a threat of restrictive actions could be a significant element, but as the EU renounced even the idea of bank sanctions against several hundreds of Belarusian officials, Lukashenka is sleeping peacefully. He has colourful dreams also because in reality neither the notorious stick nor a carrot has ever been used against Belarus, though commentators keep repeating these words as a mantra.
Sanctions against Belarus were limited just to visa restrictions for a little group of persons in 2006 and annulment of customs preferences in 2007. In a year, despite the fact that Lukashenka hadn't allowed any opposition representatives join the parliament, and continued to crack down on his population, most restrictions were lifted.
An example of careless policy towards Belarus are the events of recent weeks: two days after Belarusian police attacked the Polish House in Ivyanets on January 20 and 21, Minister Sikorski had a "manly talk" with Foreign Minister of Belarus Syarhei Martynau.
Regardless of that, on February 9 Belarusian security agencies evicted Poles form their own building by force. A visit of Martynau to Warsaw planned for February 12 wasn't rescheduled, though the agreement on local border traffic could have been signed by deputy ministers well.
Meanwhile, repressions against Poles continued. After Martynau's departure and another "manly talk" with Sikorski they reached the scale of the events five years ago, that is the time when the EU successfully applied restrictions for entering its territory by most influential Belarusian politicians.
If Lukashenka treated mending relations seriously, he would stop crackdown on the opposition on Brussels' request. If crackdown is internal provocations, it is the best confirmation that the dictator is not in control of the situation any more, and consequently cannot avoid the union with Russia.
As a result, Belarusian authorities haven't made a single step back. When Citizens' Platform' (PO) deputies of the European ParliamentJacek Saryusz-Wolski and Jacek Protasiewicz demonstrated their support to the leader of the Union of Poles Andzelika Borys, and also pressed for adopting of a relevant resolution by the European parliament, minister Sikorski flew to Kyiv to use a possibility to meet with Martynau once again, and organize a meeting with Lukashenka with his mediation. It is reported that Polish TV channels by a request of the press-service of the ministry were so kind that they were not running the entire press-conference with the dictator.
It is unclear whether the aim of the commission's work is a final legalization of "looting", that is, regime's turning over control of the Polish Houses built on Polish money and intended for the Union of Poles in Belarus. And won't it come to anybody's mind to persuade the Union of Poles to support the new line for the sake of maintaining peace and order?
Meanwhile the Belarusian and Russian propaganda argue that Belarusian Poles take a disloyal attitude, and these arguments were used as a pretext for recent military drills "West 2009". However no response from the European Union followed then or now. In other words, Lukashenka has a right to fail to see any connection between his repressions and responses of the EU. It looks as if using inactivity of the European Commission, he has chosen a wait and see attitude towards the Poles.
Was the position of Poland consistent enough for the demands concerning human rights in Belarus to be taken in account in Belarus, or at least in Brussels? In this respect, are the visit of Berlusconi to Minsk and other such meetings a support to Lukashenka or to the entire Belarusian society? What results of such a policy should be? Were threats to Lukashenka just efforts of "a paper dragon" only?
The only success of Poland
The EU is in an ambiguous situation. The first (and possibly right in intention) steps Sikorski had been talked into doing two years ago by the Brussels, were based upon interests of two or three states. Maybe that was the reason why the head of the European diplomacy Catherine Ashton limited herself to a statement through her secretary, wasn't it? The fact tat Sikorski managed to convince her to do at least that was probably the only achievement of Polish diplomacy in this scandal.
European politicians, Jerzy Buzek being a decent exception, shun of giving evaluation of the situation in Belarus not because they do not understand it, and not because the Polish minority is concerned.
The reason for this silence is fear that reminding about human rights in the country where censorship and crackdown on political opponents and attacks on businessmen are a daily routine, would cause Lukashenka's anger and make several European concerns lose steam.
By the way, though Poland was in the vanguard of "thaw" in the relations with Lukashenka's regime, statistics does not show that Polish firms have joined this business concert.
Behind a smokescreen
A quiet diplomacy which would make attempts to solve problems behind the smokescreen of confidential talks, could be a method of handling the situation in Belarus. If minister Sikorski really wanted to keep the veil of silence around the topic of Belarusian politics, he wouldn't organize press conferences with Martynau and Lukashenka. He would seek advice with a couple of people, not necessarily related to him in his agency or in the political sphere, and would inform about the intended steps to oppositional politicians and observers, expecting that they would refrain from unnecessary comments and would keep silent.
But nothing of the kind is taking place. Most likely, serious problems came in the way of expected success. It has caused use of arguments like "people criticizing the policy of the Foreign Ministry want war with Belarus", and mocking at declarations attributed to them but never made by them. Besides, with a hope that nobody remembers that, it is said that predecessors were pursuing the policy of sanctions. However after 2004 Poland limited itself to use of the EU restrictions, which do not remind traditional economic sanctions in any way. Accusations of shifting the problem into a political area do not make sense too, as Prime Minister Donald Tusk was giving promises to Andzelika Borys while he was a presidential candidate.
In order to survive in the centre of Europe, Belarusian ruler had to master the art of temporizing and juggling ambitions on Western partners. That is why, if he gives back a dozen of Polish Houses and make activities of the Union of Poles possible, I would believe that the policy of the Polish Foreign Ministry is doing good, and publicly express gratitude to Foreign Minister. But if the situation would end in semblance of actions, for instance, by a temporarily alleviation of the policy towards Poles, and Protestants for instance would remain targeted, it is to mean that the Poles have allowed to entangle themselves in the front working for reinforcing positions of the dictator.
We do no see any reasons for avoiding discussion on this topic in a democratic country, as long as newspapers which a ready to publish such polemic exist, and especially as long as promises to improve the situation which followed after "manly talks" were given publicly.
About the author: Paweł Kowal is a historian, a member of the European palriament (Law and Justice, Prawo i Sprawiedliwość). He was Vice Foreign Minster in the government of Jarosław Kaczyński.