Scandal at trial over Autukhovich: witnesses exposing investigation
11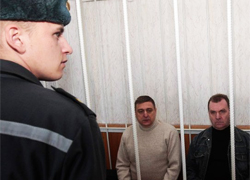 Witness told at a trial over Mikalai Autukhovich in the Supreme Court how investigators had sought their evidence.
On March 29, five witnesses were questioned at the trial. Businessman from Orsha Ihar Puzikau told the court how in 2005 he had tried to hand over a message to Autukhovich, who had been in prison, to secure his consent for selling "two or three vehicles". Puzikau asked his friend Shnitko, a prison officer, to hand over the message, but the latter read it and refused do this. Shnitko agreed with most facts in Puzikau's evidence, Radio Svaboda reports.
According to Ihar Puzikau, investigators made him say the message had been delivered to the prison. We remind that the prosecution proves that Autukhovich had been controlling preparation a terroristic act in prison and the case with Puzikau was supposed to prove a possibility of such a control. But yesterday Ihar Puzikau denied this possibility by his evidence.
According to the witness, he was threatened and promised early release. He was interrogated as a suspect. As a result he gave the evidence the investigator needed. He was released, got some money to buy a ticket from Hrodna to Orsha and a bottle of vodka from investigators.
Witness Lyudmila Paremskaya, former accountant at Autukhovich's firm Nika-trans, also told about psychological pressure during the investigation.
"Everything I told investigators about arms is untrue. I was in the state when I could tell and write everything to be released," Lyudmila Paremskaya said about her evidence regarding a grenade launcher found in Hrodna. Paremskaya didn't exclude during the investigation the grenade launcher had connection with Alyaksandr Laryn.
According to investigators, on an order by Autukhovich, Laryn was going to kill Uladzimir Sauchanka, the head of the Hrodna region executive committee with the help of a grenade launcher.
Former Afghan war participant Kanstantsin Ulanau told how he head met Autukhovich and Laryn in Minsk on 2005. Investigators think the three had been watching deputy minister f taxation Vasily Kamenka preparing an attempt upon his life.
Human rights activist Aleh Vouchak, an observer at the trial, says Ulanau doesn't confirm this information.
"He said he hadn't spied upon anybody. He wasn't told why they had come. They said they were looking for a man who could help him struggle with lawfulness. As Ulanau had a heart attack in prison, his lawyer said he couldn't be involved in investigatory actions. Nevertheless, he was taken to the places, where according to Laryn Ulanau joined them, when the three were spying upon Kamenka. Ulanau learnt about Kamenka only from materials of the case," the human rights activist said.
We remind that Mikalai Autukhovich admitted the fact of surveillance over Vasily Kamenka. According to Autukhovich, they were not going to kill him, but were looking for facts proving he was engaged in illegal activity.
Witness Vainilovoch, a militiaman from Hrodna, said that all officers of the organized crime department knew about the grenade launcher and it wasn't a duty of major Mikhail Kazlou to investigate this case. We remind that Kazlou is accused of not terminating preparation of a crime he knew about.