Autukhovich: Our case is a frame-up by high-ranking persons
8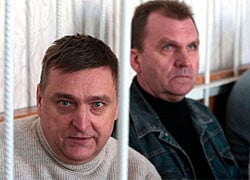 Mikalai Autukhovich believes that the court trial against him is a revenge for his activities aimed at bringing to light facts of corruption in Vaukavysk.
The political prisoner is convinced that the criminal action against him, Uladzimir Asipenka and Mikhail Kazlou had been framed-up "by a high-ranking official or a group of persons".
It was stated by him on March 23 in the Supreme Court where the trial in the case of Vaukavysk entrepreneurs continues.
As said by Autukhovich quoted by BelaPAN, terrorist attack preparation charges against him are based on testimony of only two witnesses, Paltarak and Alyaksandr Laryn, pressure upon whom had been put by investigation with the aim to slander Autukhovich, Asipenka and Kazlou.
Autukhovich does not deny that he collected information about deputy minister for Taxes and Duties Vasily Kamenka and a former governor of Hrodna region Uladzimir Sauchanka. He noted that the reason was Kamenka's numerous attempts to destroy Autukhovich's business by illegal methods, and numerous facts of corruption in Vaukavysk.
As said by Autukhovich, all the materials collected by him were many times forwarded to the KGB, the prosecutor's office, the Security Council and even to the President, but no one reacted to the facts of corruption. The only one who considered those facts was Mikhail Kazlou, who was the head of the Department for Organized Crime Control of Hrodna region then. Autukhovich stated that he believes the trial is a retribution for his activities aimed at detecting facts of corruption in Vaukavysk.
"I have nothing to do with the arson and attacks against people. Some officials wanted to stop my resistance to violation of human rights and prevent me from prove crimes of an entire group of people," the political prisoner told in the court.
Mikalai Autukhovich explained why he was to be engaged in collecting of evidence of corruption himself, "Radio Svaboda" informs. The reason was that his appeals to law-enforcing agencies were futile. The businessman gave an example of that. In 2004 in Vaukavysk he organized reception of citizens who had complaints against local officials, but it was forbidden for him by local officials to meet with such citizens. Autukhovich sent a letter to Alyaksandr Lukashenka seeking assistance. "It is like a wall," the businessman summarized.