"Old guard" for Sannikov
60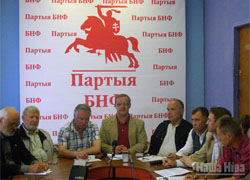 Andrei Sannikov can unite all the healthy and efficient forces of the society, are convinced outstanding Belarusian public leaders.
Members of the Sojm (Council) of the Belarusian Popular Front party, leaders of regional and district branches of the party voiced their support to the presidential candidate, leader of the civil campaign "European Belarus" Andrei Sannikov. They have stated that at a press-conference in Minsk on June 23.





Yury Khadyka, Professor, a member of the BPF Sojm:
- I have decided to support Andrei Sannikov for his personal features. The country should be leaded by people with a high grade of intelligence. We are fed up with leaders who are experts in cooking and in cattle breeding, as all our troubles are caused by lack of qualification of the current authorities and preparedness to conduct an independent policy. From this point of view Sannikov is a perfect candidate. He is from a Belarusian-speaking family with intellectual occupations, he has good education, and he would carry out a consistent, nationally oriented policy.





Ales Marachkin, a member of the Belarusian Popular Front party, head of "Pahonya" creative association:
- I know Sannikov of old. He is a deeply intellectual and wise person, who cares about the development of our Belarusian art. Recently I listened to his interview at Ekho Moskvy: he was not bypassing, speaking openly about the political situation in Belarus, about relations with Russia, about Belarusian language, our national symbols. I am sure that with Sannikov we won't sit in the trenches created by Lukashenka.





Valyantsin Holubeu, member of the Sojm of the Belarusian Popular Front Party, a former deputy of the Supreme Council of the 12th convocation:
- Andrei Sannikov is my friend. I respect him as a professional, as a diplomat, as a political figure. I know him well for his work in the Foreign Ministry; I participated in the talks on nuclear disarmament of Belarus with him. He is the person who can defend state interests professionally. By the way, creation of the People's University and Philomath Society was Sannikov's ideas as well. He is a person of action.





Uladzimir Varabyou, leader of the Belarusian Popular Front Rada of Pershamajski district of Minsk:
- Today I do not see any more deserving candidate except Sannikov. He is the one whom I and my associates support. I completely agree with the program of this candidate, and I am ready to stand by him and work.







Arkady Kuris, head of Ivatsevichy Rada of the Belarusian Popular Front party:
- For me Sannikov is light at the end of the tunnel. I was glad to find out that Viktar Ivashkevich decided to join his team. We decided to support this initiative and join Sannikov's campaign. And we will do all in power to help our candidate to become a president.







Ales Dzyamyanenka, leader of the Rada of the Belarusian Popular Front of Savetski district of Minsk:
- No one would be able to sit out during the presidential campaign. Everyone must make a choice. And we choose Sannikov. He is a moral authority, a person with firm position, who had stated that he would go all the way. Such people inspire respect, and we must bend every effort for Sannikov's victory.







Zmitser Marchuk, head of the Rada of the BPF of Kastrychnitski district of Minsk:
- I support Sannikov, as he is reliable, principled, tried-and-true politician, who actively participates in all opposition rallies. As a diplomat, he has professional connections and can restore normal relations of Belarus with the entire world. I am a fan of astrology, and I can say that Sannikov is a person who changes the vector of policy. And now, according to the stars, his time has come. Such a person as Sannikov can win Lukashenka realistically today. So get ready for a victory.





Syarhei Mudrachenka, the head of the BPF Rada of Leninski district of Minsk:
- We all have passed through rather difficult political campaigns. People want to participate in political struggle not like onlookers. We want energetic actions, we want to fight with the regime. I am sure that Sannikov could be able to unite all healthy and efficient forces of the society.







Viktar Mezhyak, the leader of Baranavichy Rada of the BPF:
- We must take part in the election campaign really. We have decided to join Andrei Sannikov's team and work for his victory.











MIkakali Pratasau, the leader of BPF Rada of Partizanski district of Minsk:
- I am a member of the Belarusian Popular Front since its foundation. I know Viktar Ivashkevich since those times and I fully trust his choice. I like Sannikov, as he is a creative personality. And when I see that he is supported by such creators as Yury Khadyka, Ales Marachkon, Valyantsin Holubeu, Ales Shaternik, any doubts disappear.







Ales Shaternik, member of the BPF Sojm, a sculptor:
- Art lives by heal and soul. And it was joyful for me to find out that Viktar Ivashkevich joined the serious thing. And it is a serious campaign, as when I read in March that Sannikov is nominated as a presidential candidate, I was very glad. I know his wife. In 1996 she was in barricades, she was beaten by policemen, who can stay indifferent to that? It's time to get down to business. I am sure that everything is going to get in motion like a snowball, everybody would unite. It's a good thing.





Zmitser Vinahradau, the chairman of Minsk regional branch of the BPF Party:
- I did not think twice to support Andrei Sannikov. Since 1990 I followed his activities attentively. The time for this politician has come. I live in Narach region, and I tell people a lot about Sannikov now. People are stricken by his biography. I am sure that this person would be able to bring Belarus back to the civilized path. And I am ready to do all I can for us to win.







Viktar Ivashkevich, the leader of Minsk city branch of the BPF Party:
- Today all our energies must be channeled to struggle with Lukashenka's regime. We would have to unite all now, before the elections or on the Square. Ultimately we will be together anyway.