Mikhalevich is in Prague already
45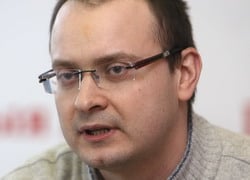 The presidential candidate in Belarus, Ales Mikhalevich, who has escaped from the hands of the Belarusian special services, is already in the capital of the Czech Republic, Prague.
As informed by udf.by website with a reference to a source from the inner circle of the presidential candidate, the fugitive has reached the Czech Republic though Russia and Ukraine.
Today the deputy chairman of "For Freedom" movement Yury Hubarevich has informed that he had talked to the former presidential candidate. He is alive and kicking, and he is in a safe place.
Later an audio recording of Ales Mikhalevich appeared on the web:
"I am Ales Mikhalevich. I am fine, I am outside Belarus. I know that there are many comments on recent events in livejournal, in by_politics community, and in other sources. People say no one has heard my voice recently. Today I talked to Yury Hubarevcich, and in the next week I am going to record a video address," the former presidential candidate informed in the audio address.
We remind that Mikhalevich is accused in "December 19" case. On February 19 he was released on recognizance.
A few days after his release from the KGB jail, the politician made a statement that "tortures are used in the KGB jail." He also stated that "he would not collaborate with the KGB."