Outrage: Sannikov's lawyer prohibited from practicing
76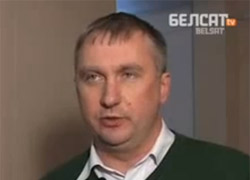 On March 3, the Minsk City Bar Association considered a warning issued by the Ministry of Justice in relation to lawyer Pavel Sapelka.
The Presidium of the Minsk City Bar Association took a decision to exclude Sapelka from the Association. He is prohibited from practicing of law, because in accordance with the Law on Advocacy practice is allowed only for members of the bar association.
Pavel Sapelka has defended many political prisoners for a long time. He took part in high-profile criminal cases, for example the cases against Mikalai Autulhovich and Partnership members. Pavel Sapelka defended Andrei Sannikov, Pavel Sevyarynets and Dzmitry Dashkevich in the criminal case over the events on December 19, Viasna Human Rights Center informs.
He said in an interview to Radio Svaboda that the disbarment was initiated by the KGB head of the Ministry of Justice. Pavel admitted that the decision is connected with defense of political prisoners Adnrei Sannikov and Pavel Sevyarynets.
"This means I stop practicing as a lawyer. The only thing I can do is to apologize to my clients for the failure to conduct their cases," Pavel Sapelka said commenting on the ruling of the Minsk City Bar Association. "If that decision had been taken by my colleagues, I do not want to be a member of this association. In any case, I am still a legal expert."
Asked if he can suggest anyone as new lawyers for political prisoners Sannikov, Sevyarynets and Dashkevich, Pavel Sapelka answered: "I am not quite sure I will be able to find a substitution. I am not sure that the lawyers I know will agree to conduct these cases in this situation."
A video interview of lawyer Pavel Sapelka after his first visit to presidential candidate Andrei Sannikov. This comment caused hysterics of the Ministry of Justice and KGB.