Andrzej Poczobut's wife refuses to give evidence against her husband
10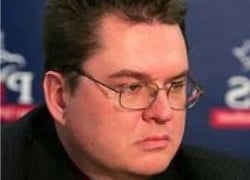 Aksana Poczobut has been summoned today to the Hrodna region prosecutor's office in connection with the criminal case against her husband, Polish Gazeta Wyborcza journalist Andrzej Poczobut.
She was called by major crimes investigator Arseny Nikolski. Aksana Poczobut refused to give evidence referring to the right not to witness against close relatives, Radio Svaboda reports.
Criminal case against Andrzej Poczobut was opened under part 1 of article 368 of the Criminal Code (Insulting President of the Republic of Belarus). The ground was his publications: eight articles in Gazeta Wyborcza, the Polish daily, one article on the website "Belorusski Partizan" and another one on his blog. Earlier, the journalist refused to give evidence to prosecutors because he doesn't think he is guilty. After that, KGB officers attached property of Andrzej Poczobut's family and seized his computer.