Lithuania granted political asylum to charter97.org editor
50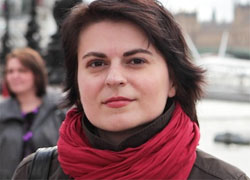 The team of charter97.org will continue its work in Lithuania, but they believe they would be able to return to Belarus soon.
The migration department of the Lithuanian Republic has adopted a decision to grant political asylum to the editor of charter97.org website Natallya Radzina.
Over the entire period of the year 2010 before the election the website charter97.org experienced the harshest pressurizing by the authorities. The founder of the website Aleh Byabenin (Oleg Bebenin) was killed. 4 criminal cases were opened against the editor of the website Natallya Radzina. 5 searches were held in the editorial office and in the flat of the journalist, 20 computers were seized. Radzina was arrested on December 19, charged with organising a protest rally against the rigged presidential election results, she spent 1.5 months in prison. On the eve of the trial the journalist fled the country. As the KGB had seized her passport during the arrest, Radzina was living in Moscow for 4 months secretly, formalizing her travel documents for Europe.
On August 4 Natallya Radzina claimed political asylum in Lithuania, where some representatives of charter97.org website managed to escape after December 19, 2010. Among others, the Foreign Ministry of Lithuania urged the Migration Department to satisfy the claim of the journalist.
"I am thankful to Lithuanian authorities for granting political asylum to me. For the first time in 14 years of my work as an independent Belarusian journalist I feel safe. However, I do not consider myself an emigrant, and I plan to return to Belarus right after the situation changed. And I have no doubts the days of Lukashenka are numbered," Natallya Radzina said.