Journey into the Whirlwind
348
Natallya Radzina
8.08.2011, 8:55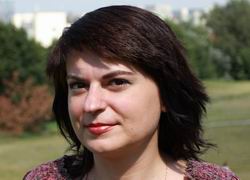 After my involuntary escape from Belarus my journey to Europe lasted 4 months.
These months seemed never-ending for me, as there is nothing so tiresome as waiting, and especially in the conditions of isolation. From the beginning I would like to apologize for the information which appeared in the first days after my disappearance that I stayed in the refugee camp in one of the EU countries. I certainly could not have stayed in a camp for so long, and particularly without revealing the country of my stay.
Such a long way be explained easily – after a month and a half in the KGB prison my passport was not given back to me, though it is completely illegal – when a person is released on recognizance before the trial, the accused must receive documents. But as it is known, the Belarusian KGB had always spat upon the legal order.
The day before I was summoned for interrogation in Minsk, I was made to understand explicitly to me that it had been decided to gag charter97.org website once and forever. After release from the KGB remand prison I was constantly threatened by putting me back into the cell of "Amerikanka" prison, as it was obvious that the arrest and following pressure had no due effect on me, and the website remained independent. Besides, my "fault" was worsened by my being member of the team of Andrei Sannikov, a presidential candidate. And as is known, Lukashenka's regime crackdown on people who had been working for this candidate for presidency was particularly cruel.
The prison itself was not terrifying me so much. Another thing was more frightening: it was absolutely clear that in no case I would not be allowed to work in Belarus. It became clear back in March 2010, after the crackdown on the editorial office and the first criminal case. Then the second criminal case followed, the third one, and then the fourth one, for the events of December 19, 2010. I remember a KGB colonel menacing 5 years' imprisonment term for me just for publishing the call of the presidential candidate to stage a peaceful protest on the square against the rigged election results. As he put it, the aggravating circumstance was my being "uncontrollable": I did not want to cooperate on the so-called investigation, or simply saying, to become an informer and write petitions to Lukashenka.
After release from prison, in my exile to Kobryn I understood that they would not leave me in peace. After every critical article a police car arrived to the house of my parents, and I was taken to the local KGB department, where I was threatened to be returned behind the bars immediately.
So when the investigator called me and ordered to arrive for interrogation in Minsk, I needed just a minute and a half to come to a decision. It was a chance to leave the territory of Kobryn. Having informed the district police officer that I am leaving to the capital of Belarus for interrogation, I took the train Brest-Minsk. At 1 a.m. I got off the train at Luninets train station, where the standing time is the longest and passengers usually go to the bar. At the train station I was met by friends, and I left for Moscow in a car. On April 1 I was outside Belarus and I was very glad that I was able to congratulate Belarusian KGB men on their professional holiday in such a way.
I could not appear in Russia openly certainly. The Belarusian authorities would immediately demand my extradition. And another, even more unpleasant variant was possible. It is general knowledge that Belarusian secret services work on the territory of Russia surreptitiously. Absence of borders allows them to abduct people in the streets of Moscow and formalize detention documents on the territory of Belarus. Thus, according to reports of human rights activist, such things happened to Ihar Alinevich (Igor Olinevich), an anarchist, who was sentenced to 8 years of arrest later.
I encountered with the problem of receiving documents in Moscow immediately, as I could not leave the territory of Russia legally.
I addressed the UN High Commissioner for Refugees in Russia for help. I passed through all formal procedures, and as long as my case had been well, the issue of my to a third state was considered in a prioritized procedure. Though these months were among the most difficult in my life, I cannot complain. Such a procedure usually lasts for up to two years usually.
Some human rights defenders and politicians knew about my stay in Russia. They rendered me all kind of support. The person who had helped me in Moscow most was Svetlana Gannushkina, chair of "Citizens' Assistance" Committee and a member of the Human Rights Council under the Russian President. To my mind, the organisation headed by her, is one of the most effective human rights structures in Russia today. It really saves people. I saw that when I entered the little basement in Dolgorukovskaya Street where the Citizens' Assistance NGO is situated. Lots of refugees from Afghanistan, Tajikistan, Uzbekistan and other unfortunate countries go for help there. Though there numbers are hundreds times higher than the staff of the NGO, everyone receives assistance.
I am also thankful for support of Freedom House organisation and its leader David Kramer, editor-in-chief of Novaya Gazeta Dmitry Muratov, a former Foreign Minister of Slovakia Pavol Demesh, Joerg Forbrig from the German Marshall Fund, "Amnesty International" and a member of its international secretariat Frederica Behr, MEP Marieluise Beck, the Committee to Protest Journalists and a coordinator of the European and Central Asian programmes Nina Ognyanova, and many other people, whose names I cannot reveal. All this mechanism of help had been put in motion by my friends, Natallya Kolyada, Iryna Bahdanava, Mikalai Khalezin, Iryna Krasouskaya, Pavel Selin, Fiodar Paulyuchenka and Pavel Marynich.
Besides, I am thankful to Russian authorities for not delivered me to Belarus despite the "union" agreements and cooperation of secret services of the both countries.
I am also very grateful to readers of our website who had been staying with us over all this hard period. In the conditions of isolation your comments supported me a great deal.
For all these 4 months I had been living in a flat of my Moscow friends, continued to work as an editor of charter97.org website and tried not to appear in public places.
After I was recognized a refugee by the UN, the first state which granted me international support was the Netherlands. On July 28, after I received travel documents, I left Moscow for Amsterdam. I am very thankful to the Netherlands for my rescue, but I left for Lithuania in three days. After the presidential election charter97.org website was registered in this country, my team works there, and I can perform my work properly only in Vilnius. On August 4 I asked for political asylum in Lithuania.
Over all these months I experienced first-hand what being a refugee means. And I can say that there is nothing to envy. I would never leave Belarus but I was no choice, as I had been surrounded from all sides, as Vysotski sang. So I had to choose the response I though suitable. I am not going to play under the rules set by the KGB in Belarus today. It is not my character to "race towards the bullet when hunted down", to so I decided "try to cross the forbidden".
I am sure that I will return to my motherland very soon, and my Belarusian passport would be returned to me by the democratic government of our country.
Natallya Radzina, editor-in-chief of charter97.org website