Operations and Analysis Centre admits blocking websites is illegal
61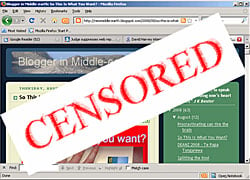 Law enforcement agencies have to comment on imposing responsibility for violation of decree No. 60 from January 6.
The Operations and Analysis Center under aegis of the president in fact admits blocking independent news sites during the 2010 presidential elections and social network sites in summer 2011 was illegal.
Electroname drew this conclusion from the comment of the Operations and Analysis Centre (OAC) to BelTA news agency.
"The access of citizens to Internet resources, including foreign ones, is not restricted in Belarus," the OAC said.
The law enforcement bodies had to comment on imposing administrative responsibility from January 6, 2010, for violation of decree No. 60. A number of foreign media mistakenly reported Belarusians would be fined for visiting foreign websites. In actual fact, administrative responsibility may be applied only on Belarusian businessmen, including Internet service providers.
The OAC specifies that only legal entities and self-employed businessmen can be brought to administrative responsibility for using the Internet resources outside the national Internet segment to sell goods, perform work or render services in Belarus.
"The legislation does not hinder economic agents to sell goods, perform work or render service outside Belarus via foreign Internet resources," the OAC stressed.
However, the question remains open on what grounds access to some websites was blocked in 2010 and 2011. Under decree No. 60, content may be blocked only on user's request. The exceptions are only governmental agencies, educational and cultural organizations.