The "house" approved the "serfdom decree"
160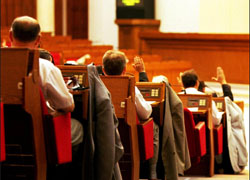 The "parliament members" took the notice of the scandalous decree No9.
As the chairman of the parliamentary commission on labour and social policy Uladzimir Vasilenka reported, the project of the respective resolution had been sent to all the commissions and there had been no remarks about that from the parliamentary members, BelaPAN reports.
"The parliament member" Mikalai Samaseika stated that, "from the legal point of view, the decree totally falls in into the labour legislation and does not contradict it". "I would advise to calm down to the people who reproach the authorities of returning to slavery", - he said.
We would remind that the decree No9 limits the labour rights of the workers of timber processing enterprises. Particularly, they all have to be transferred to the contract form of employment. At the same time a pre-term cancellation of contracts in the period of the implementation of investment projects (it means 2013-2014 according to the Minister of Labour and Social Care Maryana Shchotkina) by the initiative of workers is only possible with an agreement of the employer. The refusal of the employer may be appealed to the chairman of a regional (or Minsk city) executive committee.
In the case of violating their working obligations and a following dismissal, workers must compensate the payments which were e paid in addition to the salary.  "In case of non-return of the payments by former workers the exaction of the funds will be proceeded with by a court's decision from the salary at the new place of employment. The persons, which would not be employed by the time would be employed for the previous job with subsequent withholding of the previously made payments from their salary", - the decree says.