Lukashenka ordered to work "like in wartime": in 3-4 shifts
284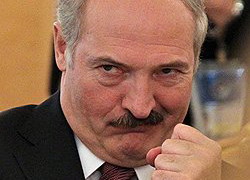 In Vitebsk the dictator crushed his criticism on builders
When visiting the public company Vitebskdrev, the ruler demanded strict fulfillment of the schedules set for reconstruction of Belarusian timber processing enterprises, Interfax reports.
"You must work like in wartime. God forbid the builders would sabotage the schedules – they would wish that it never happened. It is time to strain oneselves", - Aliaksandr Lukashenka stated.
Referring to the information provided, the ruler noted that one of the main reasons for procrastination of with the modernization of the Vitebskdrev was the unsatisfactory work of the builders.
"They should have spin here, let them work in three-four shifts", -Lukashenka said.
The president stated, that the set schedules for the enterprises of the timber processing industry will not be postponed anymore, reminding of the recent decree about additional measures on the industry's modernization. "I had to take responsibility and sign a decree, for which I am being trashed for by everyone, starting from America and ending with Russia", - the ruler stated.