Vaskovich spent another 10 days in an isolation ward
5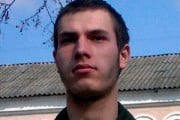 In fact it is every month that the political prisoner gets into an isolation ward, but the colony's administration refuses to give the reason for the penalties.
The mother of the political prisoner Rushania Vaskovich told Radio Racyja about that.
- He was there from 28 November to 8 December. You can say that he is there almost every moth – at the beginning or at the end. He does not lose heart. For what? For holding on hard? There is no other reason. He does not quarrel with them. And no one give me the exact reason.
Last time Yaugeni Vaskovich was put into a disciplinary cell at the beginning of October. Despite that Yaugeni holds on cheerfully, according to his mother. They now pass him letters not only from the relatives but also from friends. Yaugeni Vaskovich was sentenced together with Artsiom Prakapenka and Pavel Syramalotau for 7 years in prison for an attempt to put on fire the doors of the Bobruisk KGB department. In September this year Pavel Syramalotau was released after having written a plea for pardon to Lukashenka. Yaugeni Vaskovich and Artsiom Prakapenka refuse to write such a plea.