EU sanctions not as tough as they sound
47
By Andrew Rettman, «Euobserver»
21.02.2012, 14:05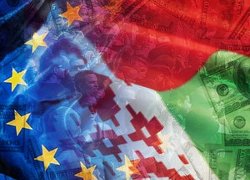 The EU is to add some 25 names to its Syria sanctions list and up to 135 to its Belarus register later this month. But being under an EU ban is not as categorical as it sounds.
When ministers on 27 February announce the measures, they will say the mixed bag of regime officials, companies and tycoons can no longer get EU visas or do business in the Union and that any financial assets in EU countries have been frozen.
The visa ban is rigidly enforced, unless you are travelling to an international meeting, as with Belarus interior minister, Anatoly Kulyashou, who went to an Interpol event in France in January, or unless you need specialist healthcare.
Enforcement is more fuzzy on the corporate and asset-freeze side, however.
Reuters last week said Iran's shipping firm, the IRISL, called at ports in Belgium, the Netherlands and Malta 149 times after being put under an EU ban in 2010.
Cyprus in January let a Russian ship refuel en route to unload weapons in Syria, and the New-York-based NGO, Avaaz, has information that a Greek firm last year shipped oil from Syria despite EU measures.
Avaaz also says EU-listed Syrian tycoon Rami Makhlouf has links to real estate and restaurant companies in Austria and Germany and that Gamal Mubarak, the EU-listed son of Egypt's former dictator, owns a luxury house in London through a Panamanian firm.
Each member state follows up on EU sanctions in a different way.
In the UK, for instance, the treasury sends a memo to its list of banks ordering them to block accounts. If they flout the ban, they risk criminal proceedings and embarrassment.
Exposure is in the lap of the gods, however - there is no investigation to check which bank really has what or who is the beneficial owner of front entities. The UK is one of the few big countries which still tolerates bearer shares - a way of hiding ownership by saying whoever has share documents in their physical possession at any given time is the legal beneficiary.
In Austria, the central bank sends out a memo.
Its spokesman, Christian Gutlederer, told EUobserver: "If you made a transaction on a frozen account, we would see it, so there is no way not to obey it." He said the bank can ask the police to look into suspect assets.
But a spokesman for the interior ministry, which controls the police, said the finance ministry would do it. A spokesman for the finance ministry's financial police said: "There must be some kind of confusion. The financial police ... is concerned with tax crimes and tax evasion, not the recovery of frozen assets"
In Cyprus, the central bank also sends out a memo and private banks are obliged to know the real beneficial owner of accounts. "We never saw such an instance [of banks trying to cheat EU sanctions] and I cannot imagine that such an instance would happen," a contact in the Cypriot financial institutions said.
Cyprus has a poor track record on financial probity, however.
A World Bank report in November said out of 150 recent cases of high-level money laundering, the small island hosted 11 dirty companies and 15 dodgy bank accounts.
The Cypriot contact noted that out of all the EU sanctions in 2011, it froze "a few million" euros: "We're not talking about big sums of money."
Meanwhile, Syria's Makhlouf in 2011 briefly obtained Cypriot citizenship. Under Cypriot law, foreign nationals must have business activity on the island, own a private home and keep at least €17 million in a Cypriot bank.
Belarusian opposition activists also say President Alexander Lukashenko's close relatives use a Cyprus-registered company to buy real estate in Minsk and that Lukashenko's EU-listed oligarch friend, Vladimir Peftiev, has a history of doing business there.
There is no transparency on EU sanctions compliance: officials in Austria, Cyprus and the UK all cited privacy laws when asked by EUobserver if they last year seized any assets on any EU list.
There is no transparency even among EU institutions and member states. EU countries do not tell the European Commission or the External Action Service what they have frozen. If one country catches out another one on non-compliance they prefer to flag it up bilaterally.
One motive for the opacity is the weakness of EU countries' intelligence.
Member states' intelligence services do drill into strategically important regimes, such as Iran and Syria. But sanctions lists for lower value countries, such as Belarus, are compiled mostly on hearsay from opposition sources because intelligence operations are expensive.
The EU court in Luxembourg last year lifted sanctions on the wife of Cote D'Ivoire's Laurent Gbagbo due to sloppy evidence
Another reason for the flaky system is pragmatism.
"We should be cautious in introducing measures [an EU reporting protocol] that could be a disincentive to sanctions ... Small countries, such as Estonia for example, would need teams of people producing spreadsheets for the EU. Cyprus is never enthusiastic on sanctions in any case. Countries that have something to hide are never enthusiastic," a senior EU diplomat told this website.
Swift: business as usual
The main reason is lack of ambition in terms of really hurting regime individuals, however.
The Austrian bank's Gutlederer said: "The aim of financial sanctions, rather than focusing on 'finding someone's money', is to put a ban on any kind of disposal with financial assets."
The senior EU diplomat said: "It's about people's ability to operate future activities and the [political] message it sends and the irritation it causes. Whether or not we find assets buried in a bank, if you are a Syrian businessman you won't put your money into, say, a French bank anymore."
The lack of ambition came out into the open last week when Swift, a Belgian-registered company which handles international wire transfers, said EU sanctions do not legally prevent it from doing business with blacklisted Iranian and Syrian banks.
"We are working with US and EU authorities ... to find the right multilateral legal framework which will enable Swift to address the issue," its spokesman Simon Bale told EUobserver.
Update: This story was altered at 6pm Brussels time 20 February. The original said Avaaz had information on two additional Greek sanctions busters. But one of the firms was already covered by the Reuters report
By Andrew Rettman, «Euobserver»