Sannikov's release main theme in Belarusian blogs
7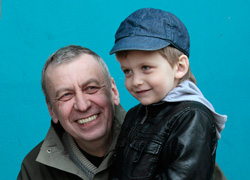 The release of presidential candidate Andrei Sannikov and his agent Zmitser Bandarneka have become the number one topic in Belarusian blogs this week.
Yandex.Blogs server names the release of Belarusian presidential candidate Andrei Sannikov and his agent Zmitser Bandarenka on April 14 and 15 respectively as the main and most discussed theme in the Belarusian blogosphere. The blog search service found about 74,000 posts in blogs and on social networking sites mentioning the name of the politician, Deutche Welle reports.
It should be noted Yandex indexes only Russian-language posts ignoring Belarusian-language blogs. Google blog search returned 164,000 results in Russian and about 12,500 in Belarusian.
Dispute over pardon applications
It's worth paying attention that most users just gave links to articles in online resources. Opinions of those commenting on the release of the former presidential candidate divided. They argued if they should have applied for a pardon or not.
Philosopher Uladzimir Matskevich reacts emotionally to this presentation of the problem and asks a series of question: "Why? Why doesn't the release of two political prisoners, so desired by everyone calling themselves the opposition, make you happy (not only happy), but gives a cause to quarrels and showdown? Why? Even on Easter Day?"
About efficiency of EU sancitons
Different points of view can be heard regarding the sanctions against the Lukashenka regime imposed by the European Union. Blogger a_ivanytch asks politologist Dzyanis Melyantsou (lipski) on his blog if the latter still believed the sanctions were not effective. The expert thinks the matter is not only sanctions, but changes in environment. Melyantsou does not expect the remaining 13 political prisoners to be released soon.
He regards the release of Sannikov and Bandarenka not as a concession of the regime, but as a tactical victory: "Political prisoners distracted attention from democratization of the country: if earlier there were demands to carry out reforms and honest elections in exchange for lifting sanctions, now only the demands to release political prisoners are heard."
Personal impressions
Personal impressions of a meeting with former political prisoner Sannikov can be found in the Belarusian segment of the Internet. Syarhei Kulazhenka writes on his account on VKontakte social networking website: "Saw Sannikov today. He looks 10 years older. And his glance..."
ErmachonokAnton@ wrote on Twitter: "There's nothing more pleasant than watching a sincere smile and real happiness of Danik Sannikov." The little son of the ex-candidate for presidency thought his father had been on an 18-month business trip.
LJ blogger pink_by raises concern about another imprisoned former presidential candidate, Mikalai Statkevich<.b>: "How is he? I wish all of them were released, but Statkevich deserves kudos most of all."