Anton Suryapin's mother: They have told us nothing!
7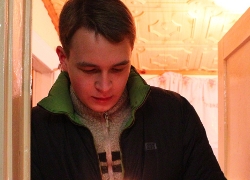 Parents of detained journalist gave interview to charter97.org.
Anton Suryapin - a young journalist and the creator of the website BNP.by. He studies journalism in Belarusian State University, consists in the Belarusian Association of Journalists. He makes photos for his website from very different events. A cheerful, funny lad, who hardly expected to appear in KGB because of pictures of teddy bears.
On July 13 of KGB came to him, made a search, and took him to notorious "americanka" – KGB detention facility. Elena Suryapina, Anton's mother, told in the interview why, on her opinion, Anton is still kept in "americanka".
- How did you react on the fact that your son is in KGB?
- Outrage that after all the videos that are posted in the web and the rest of it, they took a child who only published photos of another! He just appeared a scapegoat. As any other journalist, Anton wanted to post a sensation.
- You live in Slutsk. When on Monday you came to the building of KGB in Minsk, were you hoping that your son would be released?
- Of course, we thought that he will be released. We came in the afternoon and waited until the evening. Nobody phoned us, nobody told us nothing. They don't say anything to us! Only the prosecutor promised to phone us at 6 p.m., but he didn't.
- Do you have any assumptions about why Anton wasn't released on July 16?
- I don't know. We hired a lawyer. We learned that now they are checking Anton's computer, telephone, and camera in order to find information about his involvement in illegal border crossing. They think that he could even organize all this! But Anton has an alibi after all. That day he published many news on the website, he was sitting home at his computer.
- Do you think that your son will be released after 10 days?
- I hope that he will be. In the near time he will be allowed to see the lawyer. They said that lawyer will be called as soon as investigation will begin.
- How do you feel about KGB officers after the whole absurdity of their actions?
- I don't know. Until I won't know what will be with my child, it won't change. I won't tell anything good or bad, if you understand me.
- What, from your point of view, should do special services instead of arresting witnesses and journalists?
- The must dig deeper to find, what actually happened. Anton writes many different news stories. About Sports, about culture, about children from oncology clinic. When he writes about good – nobody notices.