Threats to Swedes is hysteria of secret services
13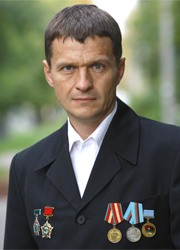 A human rights activist thinks Swedish tourists will not be persecuted in Belarus.
A former investigator of a prosecutor's office and human rights activist Aleh Vouchak comments for charter97.org  on anonymous threats of Belarusian secret service to Swedes.
"I think it is an attempt to whip up psychological tension. Ordinary Belarusians are unlikely to threaten Swedes. I don't think foreigners can face real danger. It is just hysteria of the authorities," the humna rights activist says.
"I don't think someone will catch Swedish nationals in Belarus. Visits of foreign activists and human rights defenders are not favourable for the authorities now. As far as I know, Swedes are involved in cultural and health programmes in Belarus, including Chernobyl-related programmes. We cannot create obstacles here, otherwise all foreign projects in Belarus can be closed," the former investigator says.
We remind the Swedish embassy in Belarus received anonymous threats to all Swedish nationals in Belarus. Earlier, provocateurs from unknown organization "Volny Tur" burnt a Swedish flag and shot a video of the process. Organizers of the teddy bear stunt receive anonymous e-mail messages containing threats to them and their families.
As charter97.org already reported, a Swedish light plane overflew the Belarusian border on July 4 and dropped teddy bears with pro-free speech leaflets over the village of Ivyanets and outskirts of Minsk. The Belarusian authorities refused to admit the fact of the flight until July 26 saying "an inquiry was under way". Meantime, photographer Anton Surapin, who published photos of teddy bears near Ivyanets on the Internet, and estate agent Syarhei Basharymau, who rented an apartment in Minsk to the Swedish citizens, were detained. The young men were charged with aiding illegal border crossing. Both may face up to 7 years in prison.
Lukasenka dismissed head of the State Border Committee Major General Ihar Rachkouski and commander of the Air and Air Defence Forces Major General Dzmitry Pakhmelkin. Swedish ambassador Stefan Eriksson was expelled from the country; the staff of the Belarusian embassy in Sweden was recalled.