ODIHR mission is «allowed» to the count of votes
16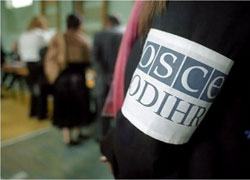 CEC has promised to provide an opportunity to observe the counting procedures.
During the meetings with the representative of the CEC of Belarus, the representatives of the mission of the Office for Democratic Institutions and Human Rights requested to give them an opportunity to monitor the count of votes of the parliamentary elections, and the CEC promised to do so, as the head of ODIHR mission Antonio Milošoski stated.
According to him, the CEC reassured ODIHR mission's representatives that the mission's observers would be able to freely monitor the count of the votes, as BelaPAN reports.
Antonio Milošoski said that during the meeting with the members of the CEC the mission's experts discussed various issues, including the procedure of setting up elections commissions.
As Telegraf reported, Antonio Milošoski stated the parliamentary campaign in Belarus runs with "the very low level of activity." According to him, the mission finishes the interim report about the election campaign in Belarus.